ZPMC Delivers Longyuan Zhenhua 3 Installation Vessel
Shanghai Zhenhua Heavy Industries (ZPMC) has delivered the Longyuan Zhenhua 3 jack-up vessel to Jiangsu Longyuan Zhenhua Marine Engineering, a 50-50 joint venture between ZPMC and Jiangsu Longyuan Offshore Wind Power that will use the vessel for the installation of wind turbine components off China's coast.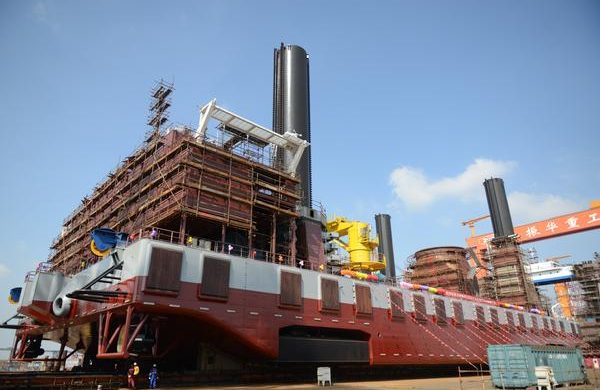 With the double-hook maximum lifting capacity of 2,000t, single-hook lifting capacity of 1,500t and lifting height of 120m, Longyuan Zhenhua 3 will undertake transport and installation of both foundations and wind turbines.
The DP1 vessel is 100.8m long, 43.2m wide and can operate in water depths of up to 50m which, according to ZPMC, is the water depth where new offshore wind power operations in China will be done.
Longyuan Zhenhua 3 can accommodate 120 people.
The vessel was ordered in 2016 and the construction started in November the same year, with the keel officially laid in February 2017 and the main hull completed by the end of June 2017. Longyuan Zhenhua 3 was launched in October last year, when it had equipment commissioning and full sea trials left before being delivered.
In April 2018, Jiangsu Longyuan Zhenhua Marine Engineering ordered another offshore wind installation vessel from ZPMC. The fourth vessel ZPMC will build for the joint venture will have a lifting capacity of 2,500 tonnes.
Offshore WIND Staff