Jan De Nul and Hitachi Team Up Offshore Changhua
Jan De Nul Group and Hitachi Ltd have signed the contract with overall work for the manufacturing and installation of 21 5.2MW wind turbines for the Changhua offshore wind farm project in Taiwan.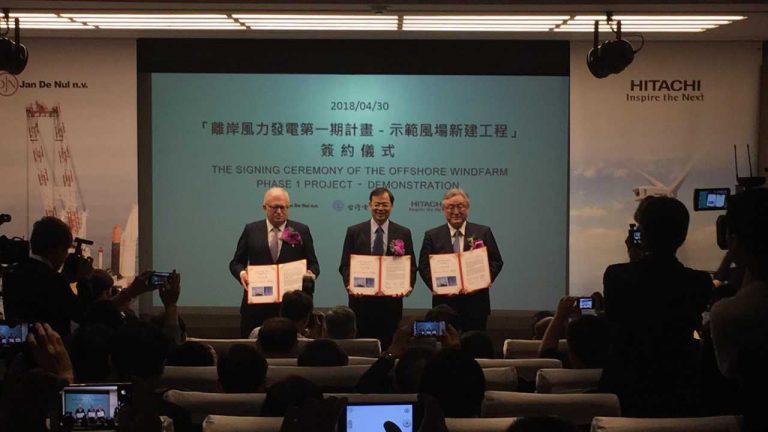 Taiwan Power Company (TPC) plans to construct the 109.2MW wind farm off the coast of Fangyuan in Changhua County in Central Western Taiwan.
The work includes design, manufacturing and installation of all foundations and wind turbines as well as maintenance for a period of five years.
The overall project has a value of TWD 25 billion (approx. USD 800 million), of which two-thirds of the amount is for Jan De Nul and the remaining one-third is for Hitachi.
Jan De Nul will be responsible for the foundation design, fabrication and installation, wind turbine installation, supply and installation of cables off- and onshore as well as for the upgrading of the electrical substation.
Hitachi will be in charge of manufacturing, assembly, operation and maintenance (O&M), and other work related to the 21 offshore wind turbines with downwind rotor, which are particularly suited for regions prone to typhoons.
A particular feature of the design is that the foundations are designed to withstand cyclonic waves and winds, and earthquake loads, Jan De Nul said.
Seabed survey and geotechnical investigation will start in May 2018. Manufacturing of the foundations and wind turbines is planned mainly during 2019 in order to deliver them in early 2020.
Test operation of the equipment is targeted to start in the summer of 2020, and the completion is scheduled for the end of December of the same year.
Taiwan Power Company aims to achieve 1GW of operating offshore wind capacity by 2025, and 1.8GW by 2030.