Jan De Nul Installs First Kriegers Flak Substation Foundation
Jan De Nul has installed the first of the two gravity based foundations (GBFs) that will support the offshore substations on the 605MW Kriegers Flak offshore wind farm in the Danish Baltic Sea.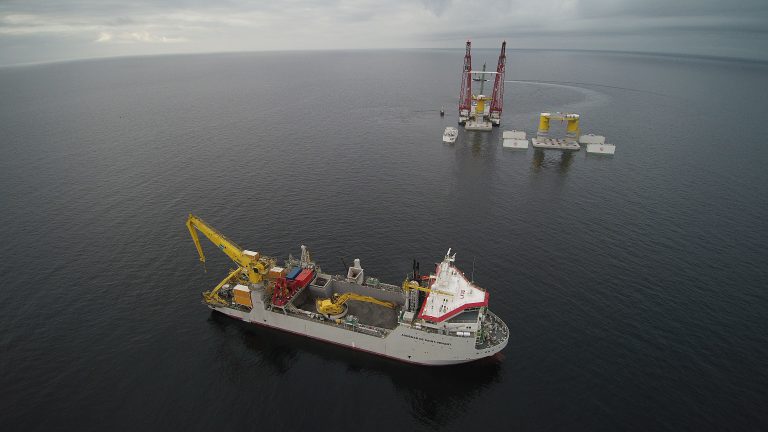 The 8,000-tonne GBF was floated off the semisubmersible barge and towed to the installation location where the heavy lift vessel Rambiz in combination with an in-house designed ballast module set the structure down onto the seabed.
The second GBF, weighing 10,000 tonnes, will be installed as soon as possible, depending on the weather conditions, Jan De Nul said.
Once the foundations are installed, the multipurpose vessel Adhémar de Saint-Venant will start with ballasting and scour protection works.
Both foundations were constructed on a barge in the Port of Ostend in Belgium. The barge was towed to Denmark in January 2018.
Kriegers Flak consists of two sections, each with its own substation. Kriegers Flak A, the west section, will have a total capacity of 200MW. The east section, Kriegers Flak B, will have a total capacity of 400MW and will also serve as an interconnector between the Danish and the German grid.
The Kriegers Flak offshore wind farm is owned by Vattenfall and will comprise 72 Siemens Gamesa 8MW turbines, expected to be fully operational by 2021.