Hornsea One Monopiles Start Rolling Into Able Seaton Port
SAL Heavy Lift's crane vessel Svenja has delivered the first 12 monopile foundations for the Hornsea Project One wind farm to the Able Seaton Port on the River Tees.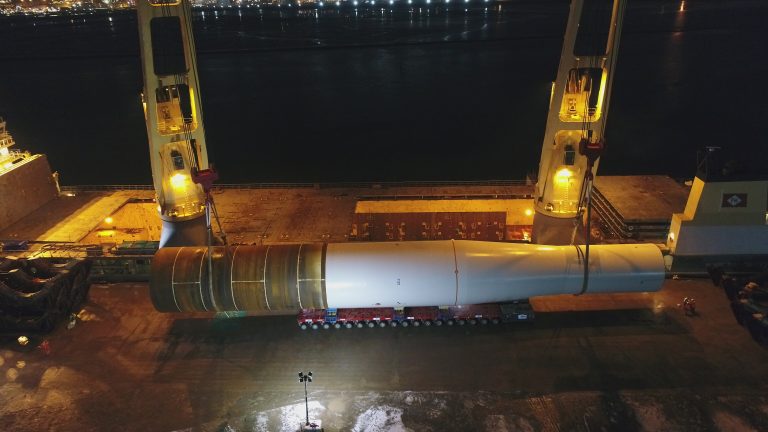 Working with Ørsted and GeoSea NV, Able Seaton Port is providing the installation base and a range of associated services for the 1.2GW Hornsea Project One offshore wind farm.
The contract extends to the foundation package and includes the receipt, storage and delivery of 174 900-ton monopiles and 174 350-ton transition pieces.
The components are being supplied from a number of different production yards. The monopiles from EEW SPC's plant in Rostock, northern Germany, and three companies will supply the transition pieces: Bladt from Aalborg, Denmark, and OSB and Wilton Engineering, both based on the River Tees.
Able UK Executive Chairman Peter Stephenson said: "This is another major milestone for our company. We see the success in securing this type of project as very much the result of our ongoing investment in precisely the sort of specialist facilities required by this sector. It is particularly pleasing that some of the components are being manufactured in Teesside, proving, yet again, that the area has the pedigree and the infrastructure to compete at the highest level."
The Hornsea Project One wind farm will comprise 174 Siemens 7MW wind turbines, three offshore substations and a reactive compensation substation (RCS). Once fully operational in 2020, it will be the largest offshore wind farm in the world.
Duncan Clark, Hornsea Project One programme director, said: "Able Seaton Port has a wealth of facilities and experience that we believe will add real value in delivering logistical support to the world's largest wind farm."
GeoSea's specialist wind installation vessel, Innovation, loaded the first set of monopile foundations at the Able Seaton Port on 31 January.
Photos: Able UK