Ampelmann Gangway for VOS Stone
VOS Stone, Vroon's latest addition to its subsea-support walk-to-work (W2W) fleet, will be mobilised with an Ampelmann A-400 gangway system.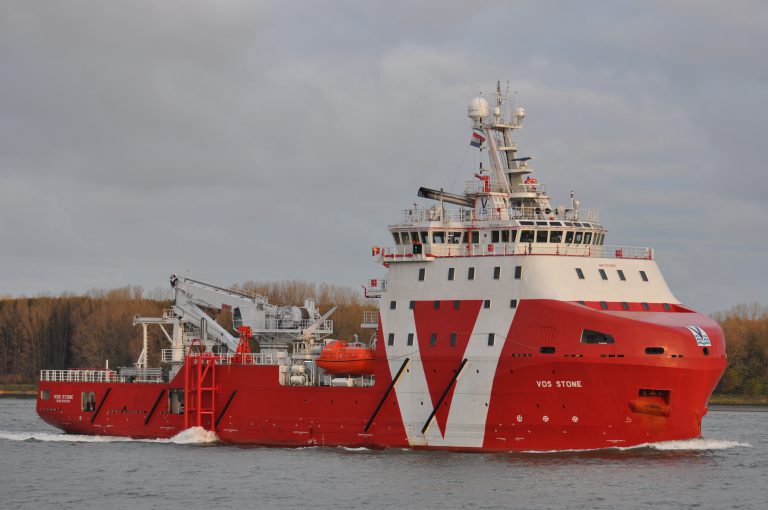 The vessel will engage in walk-to-work operations during the array cabling and commissioning of the 385MW Arkona offshore wind farm in the German Baltic Sea from Spring 2018, Vroon said.
The A-400 gangway system combines the established motion-compensation technology of Ampelmann's A-type system with a new, wider gangway and an elevator which allows for a stepless flow of people and cargo trolleys between the vessel's main deck and the offshore asset, Vroon said.
Claudia Beumer, Ampelmann Business Development Manager Offshore Wind, said: "This is a significant contract for Ampelmann as it marks the A400's first commercial project. The system was developed specifically for the offshore wind market and it is fantastic to see its benefits are already being recognised within the sector."
VOS Stone is also equipped with a 50-ton active heave-compensated crane, as well as accommodation and recreational facilities for 60 client personnel.
In the Summer 2018, the vessel will also undertake logistics support and offshore accommodation on the wind farm on behalf of E.ON.
E.ON and Statoil are building the EUR 1.2 billion Arkona wind farm some 35 kilometres northeast of the Rügen Island. E.ON is responsible for the construction and subsequent operation of the wind farm.
Arkona will comprise 60 Siemens 6MW turbines scheduled for commissioning in 2019.