Ampelmann Balanced Gangway Coming Before Summer 2018 (Expertise Hub VIDEO)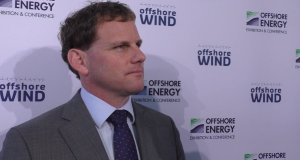 Ampelmann will introduce a new balanced gangway system, the S-type, in the first half of 2018, Jan van der Tempel, Ampelmann's CEO said.
Ampelmann and Seaqualize established a partnership to develop a new balanced gangway system in October 2017.
The two companies are now performing tests on a full-scale prototype, with Seaqualize contributing to the project with its proprietary balancing technology, Van Der Tempel said.
The project is subsidized by the Dutch Ministry of Economic Affairs.
Watch our video to also find out about Ampelmann's recent and ongoing modifications to the E-type gangway system, as well as the company's future plans.
---
For more Expertise Hub interviews, visit Navingo's Offshore WIND channel on Vimeo.