Industry Welcomes Hywind Opening
The launch of the world's first floating wind farm marked another milestone, not only for the floating wind technology but for the overall offshore wind industry.
Following the opening of the 30MW Hywind Scotland Pilot Park today (18 October), the Carbon Trust, Scottish Renewables and WindEurope welcomed the news.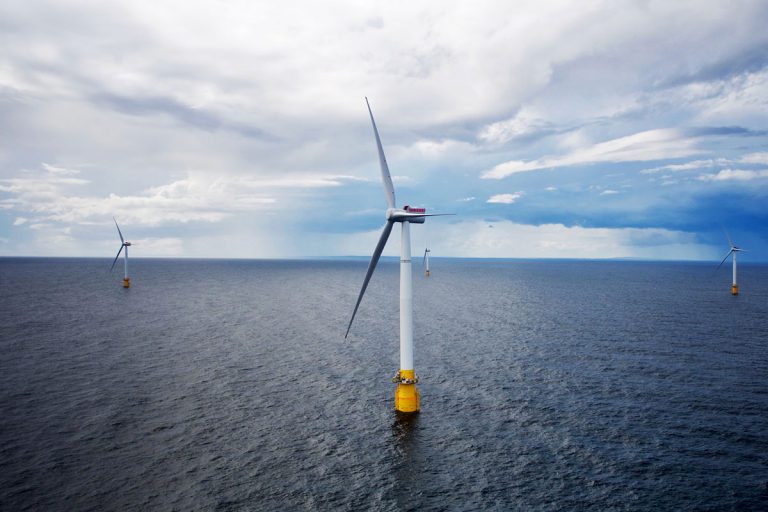 Tom Delay, CEO at the Carbon Trust, said that today's event marks another crucial milestone in the development of offshore wind.
"This will be the beginning to expand the global deployment of offshore wind to areas where fixed foundations are not feasible. With the opening of the Hywind Pilot Park today, Scotland becomes the world leader for floating wind deployment and we can say with confidence that floating wind is viable. However it is crucial that innovation continues to drive down costs and the right policy is in place to increase investment," Delay said.
Claire Mack, Chief Executive of Scottish Renewables, said that Hywind's presence in Scotland is a reminder that, as the windiest country in Europe, and with some of the deepest waters and most promising offshore wind sites, the country is perfectly placed to capitalise on floating turbine technology.
"Our unique offshore supply chain and the skillset it supports put us at the forefront of the deployment of these innovative machines," Claire Mack said. "That deployment, through sites like Hywind and the Kincardine project further south will help lower costs for this young sector, increasing the opportunity for Scotland to take advantage of a significant future global market."
In terms of costs, WindEurope reports that from the first pilot floating turbine in 2009 to the launch of this new wind farm they have fallen by around 60-70%. Statoil believes cost reductions of a further 40-50% are "realistic" for future projects.
Europe is expected to have 25GW of installed offshore wind capacity in 2020 and floating wind will play an increasingly important role since nine floating offshore wind projects, with a total capacity of 338MW, are planned to be commissioned by 2021 in France, Ireland, Portugal and the UK, according to WindEurope.
"Floating offshore wind is now a viable technology and ready to be rolled out on an industrial scale. Adding floating to the market means more offshore wind in total. 80% of Europe's offshore wind resource potential is in waters 60m and deeper, where traditional bottom-fixed offshore is less attractive. The potential for floating is massive: 4,000GW in Europe alone," WindEurope CEO Giles Dickson said.