Expertise Hub VIDEO: We Have Only Scratched the Surface (WindEurope)

The technical and the economically attractive potential for deploying offshore wind in Europe is vast and we have only scratched the surface with the 13GW that we have today, according to WindEurope's CEO Giles Dickson, who highlighted the key points from WindEurope's latest report.
Offshore wind could, theoretically, make for one quarter of Europe's power in 2030 at a cost of EUR 54/MWh, including the costs of grid connection and system integration.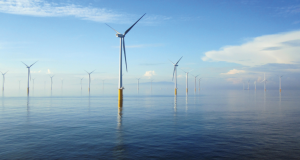 Still, to reach the full potential of this renewable energy resource, two things are crucial: the right government policies which would set ambitious targets and regulatory frameworks that support the deployment of offshore wind; and planning and permitting systems and procedures that work.
Offshore WIND spoke with Giles Dickson at our Expertise Hub set up during Offshore Wind Energy 2017 in London (6-8 June).
Watch the interview above to find out more as Dickson discusses not only the European offshore wind industry, investment, employment and energy potential, but the offshore wind sector worldwide as well.
---
For more Expertise Hub interviews, visit Navingo's Offshore WIND channel on Vimeo.