Bibby Marine CEO: There Are Several Boxes to Tick when Looking for Vessel Design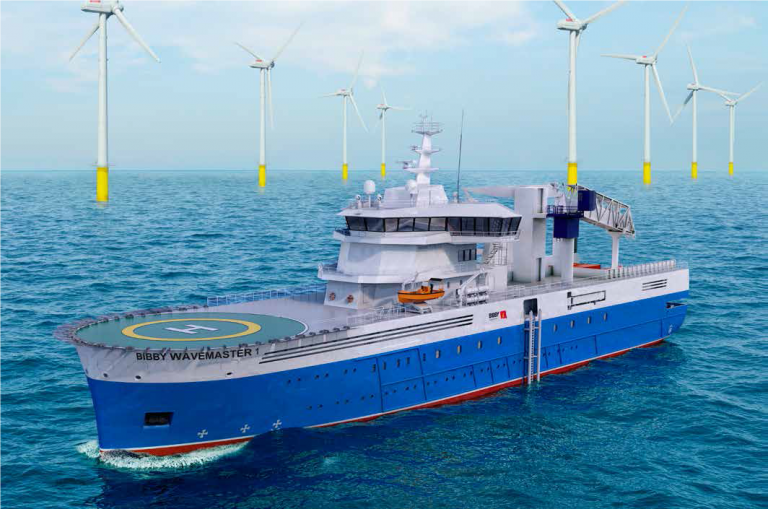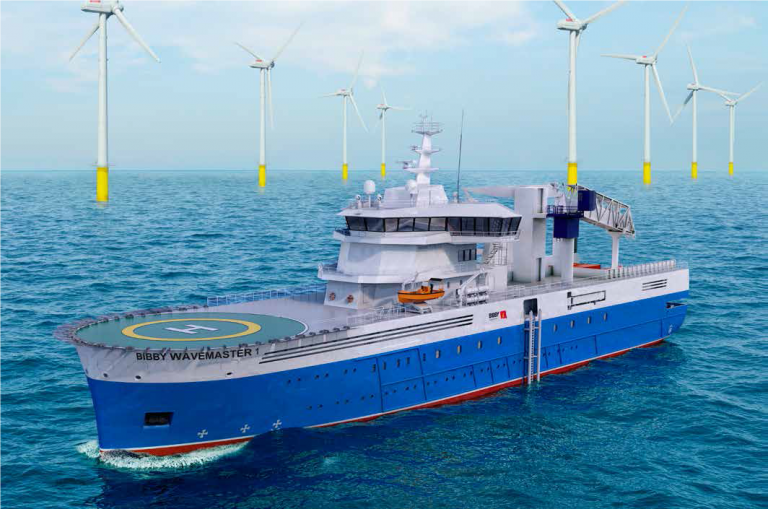 In 2017, Bibby Line Group will reach another milestone in its 209-year history when it takes delivery of the Bibby WaveMaster 1 – a vessel designed specifically for operations & maintenance (O&M) and construction support activities for Round 3 wind farms.
And even in the 'worst-case scenario' in terms of the numbers of offshore wind farms going ahead, Bibby Marine Services Chief Executive Officer Stephen Blaikie is confident the new generation vessel is 'an attractive proposition'. He explains why the company made the decision to enter the renewables sector and why it chose to make this multi-million investment.
Based in Liverpool, Bibby Line Group is a diverse business active worldwide in a broad range of sectors including ship owning, offshore services, logistics, retail outlets to financial services. It is one of the longest established family- owned companies in the UK with more than 6,000 employees and a turnover of some 2.1 billion Euro.
The company started eyeing renewables around 2012 when it took over a leading marine survey contractor, Osiris Projects, which was primarily active in oil & gas work although it had also been carrying out UXO clearance and seabed mapping services for offshore wind farm developments for several years as well. Osiris was later renamed Bibby HydroMap Ltd.
Blaikie comments: "Osiris Projects was really Bibby's first direct exposure to offshore wind. Although in 2012 we had also conducted significant research whereby we looked into marine opportunities in the offshore wind farm value chain where we felt we could bring our experience and knowledge to the market place."
At the time of acquiring Osiris the company was building the Bibby Tethra, which is a survey vessel based on the Small Waterplane Area Twin Hull (SWATH) principle that has proven very effective, he adds. Then when Bibby acquired Osiris it decided to build another vessel, the 27 metre Bibby Athena, which was launched last year.
Focus on O&M activities
"When we started to look at the market more closely, one of the areas that we identified as a sustainable business model was the O&M activities and needs of the Round 3 wind farms. With bigger turbines, at greater distances from shore and in deeper waters, these wind farms required a very specific and dedicated vessel like the Service Operations Vessel (SOV), which was being designed by Damen Shipyards in the Netherlands."
Existing vessels, inherited from the oil & gas market, had been trying to fulfil the O&M role but they are not totally suited, he stresses. "We knew there had to be an alternative design and that Damen had been developing this for a couple of years. Bibby recognised that there was a need and this SOV had the potential to be a better fit for the market."
Initial discussions with the British and Dutch family-owned companies got underway. "We are delighted to be working with one of the great names in shipping. Damen and Bibby are a similar size, both have a strong marine heritage and, almost uniquely are both family owned. Both companies focus on innovation and have similar corporate values."
A collaborative approach was adopted in the design process. "We added our input about what we felt the customers' requirements were and Damen modified the vessel to suit our suggestions, particularly the internal layout, work flows and the need for a 'step less' approach. Additional customer feedback was then incorporated in the final design."
Reducing cost of energy
"As the WaveMaster 1 evolved, it was very much a balance between the demands of the wind farms with different operator requirements. The new vessel meets the need of the market now, but also takes into account what the future demands are likely to be, given that the industry needs to continue to reduce the cost of energy. This is of paramount importance."
There are several boxes to tick when looking for a vessel design that is suitable for O&M operations as well as construction support, he emphasises. Bibby Marine Services focused on seakeeping, fuel efficiency, comfortable accommodation, workflows and effective safe transfer of personnel using a walk to work gangway. "All of these aspects have to be at their absolute optimum. This will ensure productive and safe operations of a vessel designed to stay at sea for a number of weeks (WaveMaster 1 can stay out for 30 days) without returning to port."
Extending workability was vital. "The SOV's high operability means that the job will get done quickly and effectively. Furthermore, this vessel has been designed to be as fuel efficient as possible."
Initial model test results at the Maritime Research Institute Netherlands (MARIN) indicate that the Bibby WaveMaster 1 will be capable of accomplishing an 80% plus window of operability in conditions well exceeding the current industry standard of 2.5 metre significant wave heights.
Fuel savings
Addressing the question of fuel efficiency is a dieselelectric main propulsion system spread over a four splitmain switchboard – meaning that the Bibby WaveMaster 1 will require less installed power than a traditional engine set up.
The DP2 vessel also has a helideck as standard, along with a daughter craft and Crew Transfer Vessel landing and refueling areas. Comfort on board was another essential consideration for Bibby Marine Services. As wind farms are located in harsher environments, with much higher sea states, this aspect of the design was fundamental as it could affect technician recruitment and retention rates. "Round 3 wind farms are further from shore in deeper water, with more windy conditions and much larger turbines. 8MW is now becoming the standard. This vessel is not the same as a day boat, returning every night, but is capable of up to 30 days endurance and is able to transfer personnel safely in high sea states."
Additionally, Damen and Bibby Marine Services have done everything possible to minimise vertical accelerations, reducing seasickness. "Operators may well have spent tens of thousands of euros training someone to become a technician and if they have bad experiences while carrying out their work, they may not stay in the sector."
'Hotel facilities'
The crew and technicians benefit from 'hotel like' facilities on board. "The engineers and technicians are not coming from the oil & gas industry, where people may well be used to 2-3 people in a room, and they may not have had any time at sea. Technicians are largely looking for a single berth, en-suite cabin." The 60 large, single person en-suite rooms are designed to promote wellbeing, he adds.
The Bibby WaveMaster 1 provides modern communications, WiFi, satellite televisions, a gym, sauna, leisure facilities including a 40-seat cinema, along with numerous recreational rooms. "In the O&M sector nothing happens until you get the technicians on the turbine, safe and fit for work. With a greater degree of comfort and a better 'living at sea' experience, it is more likely that they will remain in the industry."
Operationally, working efficiency was also a key driver behind the design. The space inside has been carefully planned in terms of storage, workflows and logistics to ensure that the movement of both people and goods is 'smartly optimised'. This design philosophy has resulted in a 'step less and slope less' approach for personnel workflows and logistics flow, leading to greater and safer efficiencies during operations.
Bibby WaveMaster 1 is much more than a vessel – it is a 'total access and accommodation' solution, Blaikie stresses. "The development of this vessel started from scratch as opposed to being an evolution of an existing design. Great care has been taken over the design period to incorporate customer needs to ensure suitability to the tasks for which it has been designed."
Encouraging charter prospects
However, given that the vessel was built in speculation, is the company's confidence in the offshore wind market showing any signs of wavering? "Bibby WaveMaster 1 was ordered on speculation, which signals our confidence in the market sector and our certainty that we are building an SOV that will provide a 'step change' in vessel capability and operability.
"We are encouraged by the interest in the vessel, due for delivery to us in Q3 2017, and have several ongoing charter prospects. She is handed over in August 2017, and should be ready to work straight away!"
And even though she has been purpose built for offshore wind, there is growing interest from the oil & gas sectors, he points out. "There are opportunities for SOVs with W2W gangway systems outside of the offshore wind market. Oil & gas has always been a secondary market but since we have publicised the vessel's benefits – the access to platforms in a high sea state at reduced costs – there has been a lot of interest from this market too.
"The PSV market is very depressed, with many vessels laying idle. Instead of looking at a PSV option, the oil & gas players want to increase efficiency and the productivity a vessel provides. We have already had discussions with a number of oil & gas contractors interested in such vessels and are encouraged by the interest in Bibby WaveMaster 1 from this market."
With estimates suggesting that the offshore wind market will support +/- the current number of offshore wind installation vessels in sustainable employment for the future 10-15 years, how many SOVs can realistically be supported in his view.
"We plan for a steady, manageable growth over the next five years. Various reports indicate the offshore wind market will conservatively support 20+ dedicated SOVs by 2025 assuming Round 3 progresses as planned. Customer demands are changing as the market requirements mature, and the industry is constantly striving to reduce costs whilst maintaining quality, efficiency and importantly safety."
Blaikie adds that the company does have options for more SOVs but won't comment about whether there will be an order for the Bibby WaveMaster 2 soon, though he does drop a hint. "Damen is well known for building a 'series' of similar vessels. This can speed up delivery and help control costs. Bibby does intend to grow in this market, which will require additional vessels – the specifications of each may differ to meet specific customer demands."
Acquisitions
Bibby Marine Services is however, more forthcoming about its overall ambitions announcing: 'Bibby Marine is seeking to acquire established marine related businesses with high growth potential over the long term' on its website.
Blaikie explains: "We plan to grow organically and by acquisition. We take a long-term view and are open to the needs of growing businesses which can benefit from being part of the Bibby family of companies."
In the shorter term he says, Bibby Marine Services is looking forward to the launch of Bibby WaveMaster 1 next year and its subsequent involvement in the market. And his confidence is undaunted. "The offshore wind market was a little slower in 2015 than we expected, but going forward the 2020 projects will deliver and are now coming through. It is encouraging to see. We are confident in this market, and when we financially modelled the SOV we looked at the best and worst-case scenario. Even with the amount of wind farms going ahead in the worst case scenario, it is still an attractive proposition."
A step ahead
Offshore wind is a growing industry and is still learning as it matures, he adds. "It is subject to political and subsidy decisions but the general trend is that countries in Europe are reducing their use of fossil fuels. We hope that the COP21 Convention is ratified in the coming months Fast forwarding say 20 years, we can expect that demand for fossil fuels may continue to decrease as we see greater proliferation of hybrid and electric vehicles. Demand for oil and gas will surely fall, just like it did for coal.
"Certainly a significant part of the planet's energy requirements need to come from renewable sources. There is energy storage problems now, but with new developments in the field of battery technology and energy storage we are sure to see quantum improvements in this area in the medium term."
For over 200 years Bibby has tried to be innovative, he emphasises, and to be a step ahead of the market anticipating customer needs and delivering innovative solutions. "The Bibby WaveMaster 1 was designed from a blank piece of paper and incorporates many novel and new features. She is specifically designed to have high operability in North Sea conditions. Others will for sure come with new designs, but we are confident we will continue to innovate and provide what the customers need."
---
This article first appeared in the October 2016 edition of the Offshore WIND Magazine.