Siemens Cuts Ribbon at Hull Wind Turbine Blade Factory
Today, Siemens officially opened its wind turbine blade manufacturing plant in Hull. The factory has been delivered ahead of programme and within budget, according to the company.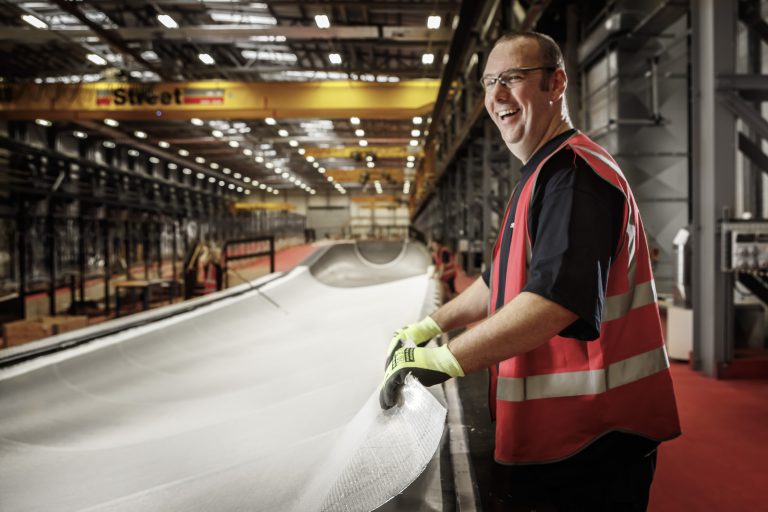 For the occasion of the official launch, Siemens unveiled a 75m blade, the first of hundreds to be manufactured at its Hull factory.
The opening ceremony is marked with a visit from the Secretary of State for Business, Energy and Industrial Strategy, the Rt Hon Greg Clark MP.
As well as being given a tour of the new factory, guests will see 90-metre turbine towers which have been assembled at the dockside, ready for load out early in January, when they will be sent off to the Dudgeon offshore wind farm off the Norfolk coast, together with other components.
Dudgeon, a joint venture owned by Statoil, Statkraft and Masdar, is the first project to be serviced by the new facilities in Hull.
The new blade factory is the centrepiece of a GBP 310 million investment by Siemens and Associated British Ports (ABP) in Green Port Hull.
Development of the full Alexandra Dock site, including a new harbour for pre-assembly and load out of wind turbine components, will continue into 2017.
At the end of October, Siemens launched a new recruitment wave for Green Port Hull, advertising 140 job positions. The company plans to fill the advertised vacancies from December 2016 to the end of March 2017.
Siemens has employed almost 700 people in Hull so far, with 96% living within a 30-mile radius of the city. Around 10% of recruits were women, higher than in similar manufacturing and engineering environments where the proportion of female employees is typically below 5%, Siemens said upon launching the latest recruitment wave, and added that it hopes to increase this percentage during the remaining phases of recruitment.
The company has received more than 23,000 job applications. A further 100 permanent staff are employed at Alexandra Dock working for Siemens' suppliers, and recruitment, up to a total of 1,000 people, will continue into 2017 as the site becomes fully operational. Hundreds more jobs have been created during construction and in the supply chain, Siemens said.
Last week, Siemens held a topping out ceremony for its nacelle facility in Cuxhaven, Germany. The production building is scheduled to begin producing nacelles for Siemens' offshore wind turbines by mid-2017. In addition, a two-story building is being erected next to the production building to house offices and the site cafeteria.
---
[10:57] Update: details on the opening and recruitment statistics.