ACCESS SYSTEMS: UPTIME – Moving forward, the latest Motion Compensating Gangways
The young offshore wind energy sector is making a far greater use of vessels than the older oil and gas sector ever did. Following the self-elevating crane vessels, or selfpropelled jack platforms with cranes, or Wind Turbine Installation Vessels (WTIVs), this sector has taken the lead in the development of a second innovative vessel, namely the walk to work vessel.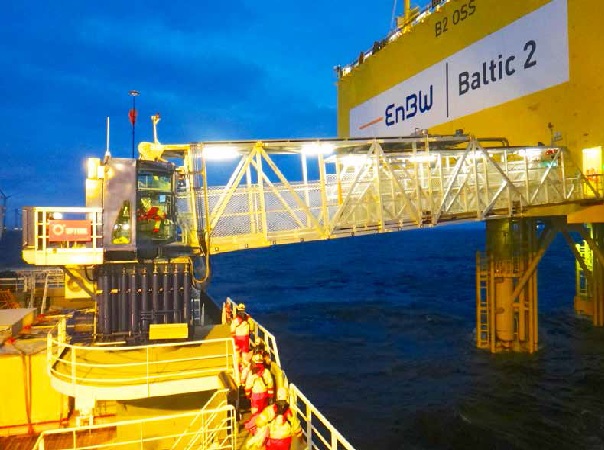 There are people in the oil and gas sector who have wondered why the wind sector has not followed their lead and used a jack-up or a semisubmersible accommodation platform with anchors laid out, which is able to stay in one location for the duration of the construction work. The design of a wind farm is, however, nothing like that of an offshore oil or gas field. In the development of an oil or gas field the majority of the construction work takes place around the production platform. Having a vessel able to locate and relocate at ease within the vast area of a wind farm on a day-to-day basis when the weather permits is essential for both speed and efficiency.
Making weather windows longer and safer is an integral part of cost cutting. It is not really surprising that offshore wind farms are built in areas where prolonged periods of wind is available, providing a constant source of raw energy to fuel the turbines. In the construction stage however this wind is a source of hindrance, the seas are whipped up into making a swell that causes operational interruptions in just about every part of the construction and installation work.
Non-productive delays are costly to the industry. The construction, installation and commissioning phase amounts to over a quarter of the CAPEX cost. Of this proportion in CAPEX the expense can be further divided roughly between material costs, labour costs and the largest part which includes the chartering of the vessels used during this stage. Vessels waiting on weather, unable to get technicians and engineers to their place of work is definitely not a desirable situation!
Consequently the offshore wind sector has brought in another innovative piece of engineering, the motion compensating gangway. With one of these pieces of equipment installed on board an accommodation vessel becomes a walk to work vessel.
A big step UP
One of the latest companies to develop and market such gangways is UPTIME International AS, formed by two companies with expert experience, one in each of the two components of the motion compensating gangway. For more than ten years ICD Industries has been making control systems in Norway for motion compensated equipment to be installed in advanced vessel systems.
Also in Norway, Marine Aluminium are the market leaders in the manufacture of large gangways and helidecks. The products of the four year old company fall into two categories, their small, 8m and 12m gangway for Crew Transfer Vessels (CTVs) and their large, 23.4m and 26m gangway. Between them they can solve the crew transfer problems from vessel to turbine, and back, for all the possible variants encountered in the offshore wind sector. Recently Offshore WIND spoke about the two gangways to Svein Ove Haugen, the UPTIME Sales & Marketing Director in Norway.
The smaller version, typically installed on the bow of a CTV is capable of a 30° elevation, and also 30° lower if that should be required. The 2.5 tonne 12m gangway enables safe and stable personnel transfers in seas up to a maximum of 2.5mHs providing a safe operational ability at a higher sea state than would be usually possible with the thrust powered fender grip of a normal CTV. The heave and pitch absorption available with the active motion compensation makes this gangway even capable of providing a link between two vessels at sea both subject to the similar sea conditions.
Big brother
But it is the larger brother of which UPTIME are particularly proud. This model is a gangway. It is nothing other than what it says on the packing, namely the UPTIME 23.4m Gangway. Throughout our conversation Mr Ove Haugen constantly repeated that UPTIME have been very careful to ensure that this gangway will not let anyone down. If a failure or even a hint of a failure should occur the trained operator will have been warned in good time, alerted by different states of failure warnings.
Even in the case of a complete power failure on board the system can be manually retrieved to a safe position. There are multiple levels of redundancy in every stage, mechanical, electrical and in the electronic control system. To enable remote fault finding should a fault occur while at sea, the complete system on board, including the vessel's DP system, if needed, can be monitored by one of UPTlME's expert engineers in Alesund. This makes it possible for the trained operator on board to get the system running again quickly, reducing downtime.
The operator of the 23.4m gangway should be a trained person who has attended the UPTIME course, either in Norway on their training simulator in Haugesund, or on board a vessel equipped with the system wherever their client requires. Mr Ove Haugen told Offshore WIND that their simulator reminds him of a computer game, but one with a serious and important role. An experienced offshore crane operator should be able to become fully capable of operating the gangway within a couple of days, but other less experienced personnel can still qualify after a course of up to a full week training on the simulator.
On board a trained operator is required to stand by the controls while the gangway is in use. This is all part of their aim to ensure the ultimate safety level in operation.
To attain greater heights the base of the gangway can be fitted to a tower or even mounted on an adjustable pedestal to allow it to be raised or lowered, giving it even more versatility. A maximum load of 1,000kg on an extended gangway is possible, but again Mr Ove Haugen was still keen to emphasize that this is a gangway not a crane.
As you could expect a large walk to work vessel should be able to function in sea states well above what is usually considered the upper limit. The 23.4m gangway operates comfortably in wave heights of 3.5m Hs on a supply vessel and has even been tested at 4m Hs on purpose designed and built walk to work vessels.
To date their gangways have been fitted on nine vessels and they have orders in both the offshore wind and oil and gas sectors for a further eight vessels in the future.
Dick Hill