Wind Turbine Rotor Blade Market Out Now
The report: "Wind Turbine Rotor Blade Market by Material (Glass Fiber, Carbon Fiber), by Blade Size (<27 Meter, 27-37 Meter, 38-50 Meter, and >50 Meter) and Geography -Global Trends and Forecasts to 2019", published by MarketsandMarkets, defines and segments the Wind Turbine Rotor Blade Market with analysis and forecasting of volume as well as value.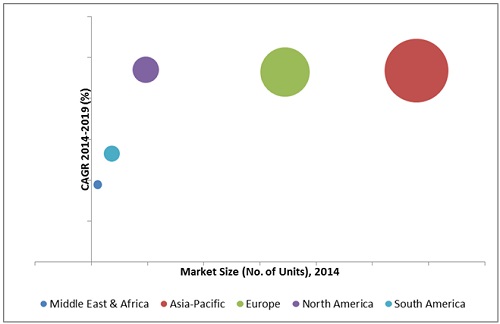 It also identifies the driving forces and restraining factors for the Wind Turbine Rotor Blade Market, highlighting the latest trends and identifying opportunities.
The global Wind Turbine Blade Market was valued at $9,998.9 million in 2013 and it is projected to reach a value of $16,982 million by 2019 from an estimated value of $10,914.3 million in 2014 with a CAGR of 9.2% for forecast period.
The Wind Turbine Rotor Blade Market is driven by policy support from governments and reducing costs of wind power generation. Governments across the world have been pushing to include more renewable power to their energy mix, an approach that is driving many new wind power projects, generating demand for Wind Turbine Rotor Blades. The declining cost per kWh of generating power from wind is making it the most attractive renewable energy option.
However, high capital costs for such projects may act as a restraint for the market, along with the use of expensive raw material required for manufacturing larger blades.
Future growth projections for the wind energy sector are very promising, indicating opportunities for in the rotor blade market. However, the market is required to handle critical challenges such as difficulty in transportation to fully capitalize on potential opportunities
The blade sizes covered in the report range from smaller than 27 meters to 50 meters and above. In 2013, Asia-Pacific was the largest market for Wind Turbine Rotor Blades and accounted for a market share of 54.13%. The use of carbon fiber in blade manufacturing is growing at a fast pace as blade sizes tend to get larger than ever.
The Wind Turbine Rotor Blade Market is projected to grow at a CAGR of 9.2% between 2014 and 2019 with increasing demand in the Asia-Pacific region. The increase in demand for wind turbines for renewable energy generation is the prime driver for market growth.
The leading players in Wind Turbine Rotor Blade Market include Siemens AG (Germany), Vestas Wind System AS (Denmark), Suzlon Energy Limited (India), Acciona S.A. (Spain), and Gamesa Corporacion Tecnologica (Spain). The market players in Wind Turbine Rotor Blade Market make substantial investments in R&D to continuously introduce new and more efficient blade designs. The companies are expanding their markets into new geographic territories to take advantage of new opportunities in emerging economies, while simultaneously maintaining focus on developed markets.
Press release; Image: MarketsandMarkets Analysis