Statoil, GROW Host Dudgeon Wind Farm Supplier Event
Attended by close to 150 companies, the supplier day organised by Statoil with GROW: Offshore Wind, highlighted supply chain opportunities emerging from the Dudgeon offshore wind farm.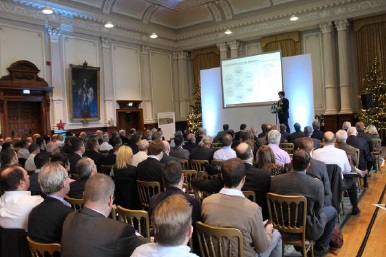 The event held at Great Yarmouth Town Hall, aimed to encourage Tier 2 offshore wind supply chain companies to tender for the products and services required by the Tier 1's. The major contractors were seeking suppliers for both the construction phase and the ongoing Operations and Maintenance phase of the Dudgeon Offshore Wind Farm.
Nick Thomson, Sales Engineer, Gee-Force Northern Ltd said: "I found this event very useful and interesting; I've made a lot of new contacts with potential future customers."
"Dudgeon is a great investment for the local area and events like this allow you to meet key decision makers and get messages directly from the developers," added Dan Benson, Team Leader, Cooper Lomaz Recruitment.
The Dudgeon Team speakers consisting of Bjørn Ivar Bergemo (Asset Manager) Olav-Bernt Haga (Facilities Project Director) and Rune Rønvik (Operations Manager) kicked-off the event with an interesting introduction to this £1.5 billion renewable energy project consisting of 67 6MW Turbines over a 55 square kilometers farm area.
The speakers provided a useful insight for possible suppliers who wanted to align themselves with Dudgeon's values and gain a clearer understanding of the opportunities in the supply chain. Dudgeon has a strong ambition to be a Wind Industry Leader in HSE (Health, Safety and Environment).
Press release; Image: growoffshorewind