High School Students Eye Careers in Marine Sectors
Lasswade High School students keen to explore careers in the burgeoning marine and offshore renewables sector demonstrated work undertaken using an innovative pilot on marine renewables called 'Clean Energy from the Sea'.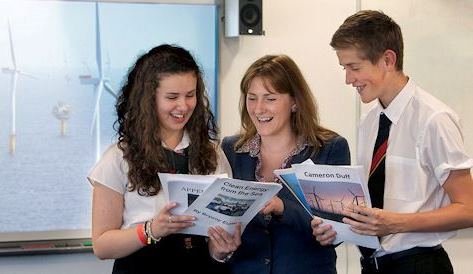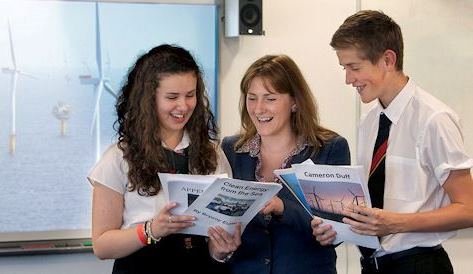 Described by Scotland's Schools Minister as "a hugely impressive project", the resource is being used as a springboard for learning about the different jobs and careers in the low carbon energy industry. The pilot project was developed by The Crown Estate as part of its support for the renewables industry in Scotland.
The renewables sector currently employs almost 11,700 people full-time, of which 21% are in offshore wind and 9% in wave and tidal, according to Scottish Renewables. With approved projects in the Moray Firth alone set to create over 4,600 jobs during construction in coming years, 'Clean Energy from the Sea' recognises the importance of ensuring pupils are aware of the range of opportunities in engineering, communications, project management and policy in this growing sector.
A key component of the pilot project is industry support and Lasswade High School has benefited from input from Artemis Intelligent Power. From its Midlothian base, the Mitsubishi-owned engineering firm is involved in marine and wind energy research and design.
Commenting on 'Clean Energy from the Sea', the Minister for Learning, Science and Scotland's Languages, Dr Alasdair Allan, said: "Giving students the chance to develop skills which will equip them for future careers is a key part of the Curriculum for Excellence. It is also great to see schools building positive partnerships with local industry to support young people's learning.
"Scotland has extraordinary wind, wave and tidal resources and our renewable industry is at the forefront of marine energy technology development. Education resources like 'Clean Energy from the Sea' offer pupils an insight into the benefits of renewable energy."
Naomi Campbell, The Crown Estate's Development Manager said: "Offshore renewables has the potential to kickstart a revival in Scottish manufacturing as well as maintain Scotland's enviable reputation for innovation and R&D.
"To realise this potential and attract investment by employers, we'll need a highly-trained workforce. We've sought to encourage, inspire and enthuse pupils by bringing the industry into schools in a way which develops analytical and research skills and is genuinely cross-curriculum."
Niall Caldwell, Artemis Managing Director said, "Artemis engineers invent, make and test high-tech machines to generate renewable energy and reduce the energy consumption of vehicles and industry. But we all started out as curious girls and boys, taking things apart to find out how they work, and making stuff for the fun of it. This type of creative play, combined with the knowledge gained from lessons, prepares the kids of today to invent Scotland's future with their own hands. Let's give them a challenge: how do we make and transform energy to power our modern world, without destroying it in the process?"
'Clean Energy from the Sea' reflects the cross-subject approach of Curriculum for Excellence. Students are encouraged to seek out information, make sense of it and present it in a way that reflects their depth of understanding across subjects such as geography, physics, and modern studies.
Lasswade High School has joined schools in Orkney, Wick and Thurso as the first schools to test the pilot resource. The Crown Estate, the body that manages leasing of the seabed, hopes the project will, with the support of industry, eventually be rolled out across Scotland. The business is investing in a range of strategic activity across offshore renewables to accelerate development, reduce costs and attract internal investors.
Press Release, June 30, 2014; Image: thecrownestate