Coda Octopus Introduces New 3D Sonar for ROVs and AUVs
Coda Octopus has developed a new sonar for ROV and AUV operations called Dimension.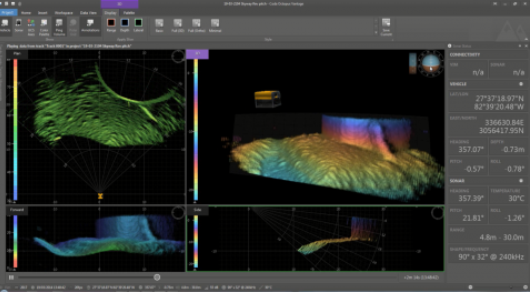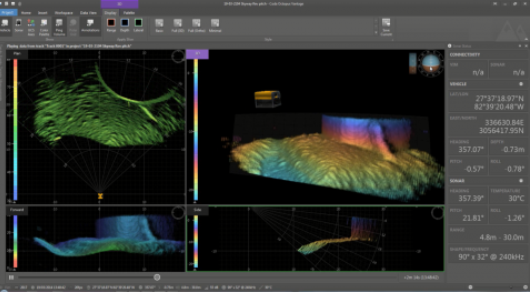 Based on Echoscope 3D imaging technology and software developed by Coda Octopus, Dimension provides real-time 3D imaging for subsea vehicle applications. Designed for deployment on a wide range of subsea vehicles, Dimension is a true real-time 3D sonar that transforms ROV underwater operations.
Using the Vantage software suite and advanced beamforming techniques, the Dimension sonar provides the ROV pilot with a unique Vantage QV (Quad View) feature for safe navigation, obstacle avoidance and real-time subsea scene imaging. Vantage QV  features a conventional plan-view, commonly provided by scanning sonars, along with three additional simultaneous real-time perspectives of the subsea environment: forward; side; and 3D. The Vantage software also includes a user toolkit allowing events, targets and measurements to be applied to the data during both acquisition and playback.
With an operating frequency range of 240-325 kHz and a maximum opening angle of 90° x 32°, Dimension provides enhanced spatial awareness of the vehicle's environment that allows the pilot to operate with greater safety and reduced risk in and around complex work sites, especially in low visibility conditions.
For ease of integration, the Dimension sonar is also supplied with the CodaOctopus Vehicle Integration Module (VIM). The VIM is vehicle mounted and connects directly to the Dimension sonar providing interfaces to the ROV power, data and control sub-systems.
Press release, May 1, 2014; Image: Coda Octopus