Mojo Maritime Launches HiFlo-4 Installation Vessel (UK)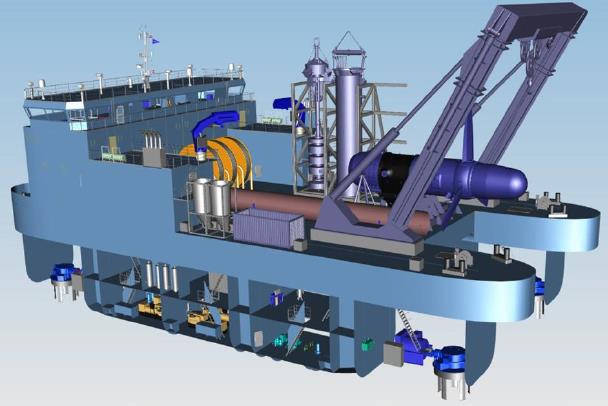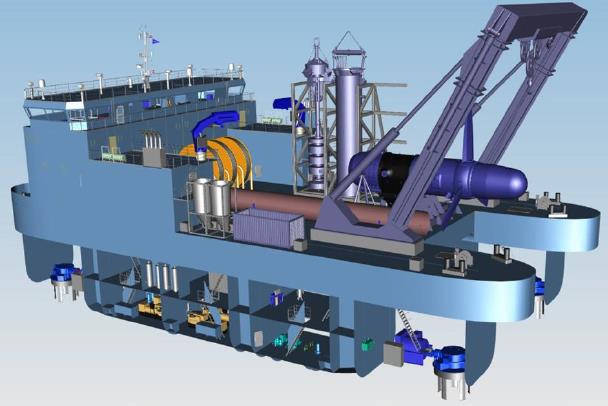 Mojo Maritime revealed plans for its patented development of the HiFlo-4 Installation Vessel (HF4) at the Renewable UK 2013 Wave and Tidal Event in London. HiFlo-4 is a high performance vessel built around installation processes and the demanding environment experienced in tidal races such as The Pentland Firth. The launch focused on the vessel's capability, the economic model and the commercial development of the project and is focused on safe, economic industrialisation of tidal energy.
The vessel is designed to operate using dynamic positioning in currents up to 10knots, allowing a high degree of accessibility and improved productivity during the construction phases of tidal energy farms- indeed the modelling carried out demonstrates that the vessel is capable of complete installation and hook up of 50 turbines per year equating to 70MW of installed capacity from a single vessel.
The vessel is a twin hull vessel powered by 4 Voith Schneider Propellers (VSP), with a high degree of attention on the hydrodynamics of the twin hulls coupled with the VSP's. The vessel is capable of installing foundations, cables, subsea connectors and turbines in a wide range of conditions. The design has been inspired by Mojo's work with Bauer on their award winning BSD-3000 Subsea Drill and provides a safe and economic platform for installing drilled foundations.
The foundations are the most technically challenging and costly aspect of installation. Current offshore construction vessels are very limited as their dynamic positioning systems are only designed to operate up to 3 knots. This means the installation vessel will spend over 60% of the time on standby unable to operate and operations such as drilling and cable-laying become difficult due to high risk of excursion (where the environmental conditions exceed the capability of the vessel causing drift off).
Richard Parkinson, Mojo's Managing Director, commented: "The key design driver for this vessel is more efficient and safer marine operations in high tidal flows: current methods are too high risk and major investors/ utilities will not entertain high risk activities on their sites."
Due to reduced periods of downtime and increased productivity the vessel is at a major techno-economic advantage over existing vessels. Additionally the improved flow hydrodynamics, combined with an intelligent Power Management System mean the vessel consumes a quarter of the fuel of existing vessels – a major cost saving as well as good green credentials. The vessel is significantly cheaper to construct (meaning lower day-rates) and will operate, integrated reduced manning to further improve efficiency.
The vessel is being commercially developed to be available in summer 2015 with construction planned to commence 4th quarter this year. Mojo Maritime has built a highly capable collaboration team consisting of Bauer Renewables (seabed drilling), Voith Turbo Marine Engineering (leading on basic design and supply of VSP's), DNV (classification) and University of Exeter (analysis of turbulence and input to DP simulation). The project has also welcomed support from the Technology Strategy Board/ Scottish Enterprise under their MESAT Program.
Mojo Maritime will operate the vessel and installation solutions as part of a powerful consortium of vessel owners, offshore contractors and specialist suppliers. This consortium will provide an integrated service to the current demonstrator sites in both the UK and France and ultimately an industrial solution worldwide.
[mappress]
Offshore WIND Staff, March 7, 2013; Image: Mojo Maritime