Germany: BSH Publishes Network Plan for North Sea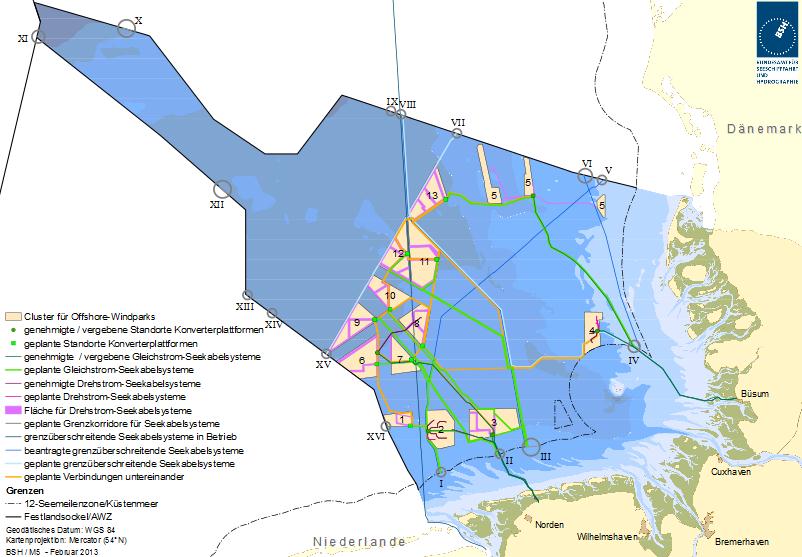 With the release of the "Federal Trade Plan for Offshore North Sea", the Federal Maritime and Hydrographic Agency (BSH) presented the first offshore network plan.
The "Federal Trade Plan for Offshore North Sea" concretized and added Maritime Spatial Planning to the planning of electrical networks. It summarizes the planned and approved wind farms along with a maximum distance of 120 km of coast to 13 clusters.
The plan outlines routes or route corridors for pipeline connection of wind farms, sites for converter and transformer platforms, tracks for cross-border electricity interconnections and transfer points between the exclusive economic zone (EEZ) and territorial sea. It is therefore a binding infrastructure for the power grid. Thus liability, legal certainty and a reliable basis for planning is guaranteed for the individual approval procedure.
"With the 'Federal Trade plan for Offshore North Sea", the BSH issued the world's first systematic grid planning in the offshore area in a record period of ten months, " said Monika Breuch-Moritz, president of BSH. "The capacity in this plan has been determined so that the principle of energy policy objectives of the Federal Government can be achieved by 2030. The network was created in close consultation with the Federal Network Agency and the coastal states."
The network plan sets a specified standard system capacity of 900 MW for each converter platform. The cable systems have a transmission capacity of 900 MW at a voltage level of 320 KV. These requirements create the preconditions for the various converter platforms to be connected together. These requirements of grid operators ensure that the failure of a power converter platform or individual areas may be offset by other components of the network.
The standardized technical specifications open the possibility to combine the German North Sea offshore grid with an international network in the future.
The determination of cable lines and converter stations is based on broad strategic environmental assessment. This ensures that the areas and spaces are planned to balance the interests of users and the protection of the environment. The network operator can implement the grid connection systems in the defined areas meaningfully and effectively.
[mappress]
Offshore WIND Staff, February 25, 2013; Image: BSH