Wind Bankers III: Meewind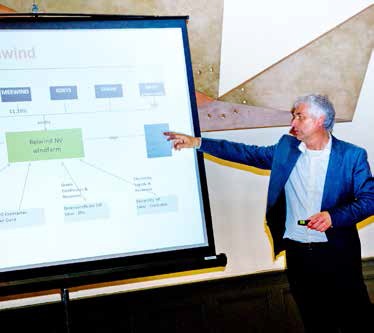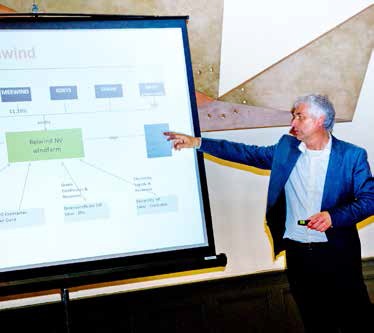 Meewind is aiming to raise funds to realise the second phase of the Belgian offshore wind farm, Belwind, following the success of the first phase completed in 2010.
Located at Bligh Bank, 46km from the Belgian port of Zeebrugge, Belwind comprises 55 wind turbines providing 165MW and energy for 185,000 households.
The first phase of Belwind was finished in December 2010 and a start on building the second 165MW phase is expected in 2014. The Belgian retail giant, the Colruyt Group, is the majority shareholder of Belwind.
Willem Smelik, Meewind Director comments: "Belwind has been in operation for two years now with the availability of turbines standing at more than 95%. We have been delighted with its performance." Given the P50 scenario (the average level of generation), the amount of wind is also above budget, he stresses. The company hopes to close the fund for the second phase of the project by late 2013.
Meewind was established in 2007 in the Netherlands to invest in offshore wind and now has 3,500 participants and €28m in the fund. "Belwind was realised within the planning schedule and on budget. There has been no problem getting participants who are very enthusiastic to invest. We are hoping that the second phase can be as successful as the first."
Participants can invest €1,000 upwards with returns of a minimum of 7-10% forecast and every year the fund pays a dividend. The Meewind fund is also flexible in that investors are not tied in for years. The fund will also include proceeds from a small test base for a new 6MW Alstom turbine, which will be placed near Belwind in 2013. "This is great for both parties, Alstom can get its turbine certificated and our fund gets the extra income from the Alstom turbine being connected to Belwind's offshore high voltage station."
The Dutch dream
Although the journey to raise funds for the Belwind project was a successful one, it has certainly not been easy. "It has been a very long and hard journey, of course being a Dutch organisation we were hoping to raise funds for a Dutch wind farm." When the fund was established in 2007 it started to become clear that there wasn't likely to be a new Dutch wind farm before 2012 and now this is even later, he stresses.
"It was very difficult initially because we wanted a Dutch wind farm because most of our investors are Dutch. I think it would have been far easier in retrospect if there had been a project in the Netherlands. All the projects that had wanted to start in Dutch coastal waters didn't manage to get their subsidy. "We had started to raise money for Dutch projects but because the Dutch government was too slow, we started with Belgian projects instead."
However, Meewind's ambitions to go Dutch were not for want of trying. It was planning to launch a fund for a second Dutch offshore wind project, hoping to invest €150m in the wind farms which were, at that time, BARD-Nederland, which lie 80km north-east of the Dutch island Schiermonnikoog.
Located close to the German border, the wind farms represented the largest ever offshore wind project in the Netherlands.
However, in August 2011 BARD sold its 70% stake in the 600MW BARD-Nederland to Amsterdam-based specialist green investment firm Typhoon Offshore. The project has subsequently been renamed the Gemini project.
Two wind farms were initially expected to be built with 120, 5MW turbines, representing an investment of €2.3bn and producing green electricity for 1.5 million Dutch consumers.
Meewind had originally made an agreement that it would deliver €150m of mezzanine finance. But in contrast to Belwind, Meewind was not initially going to turn to the public to raise the money but this time it approached the local authorities, municipalities and provinces of the Netherlands.
The fund was asking local authorities to invest around 1% of money they received from selling so-called gray stocks in utility companies. For instance, energy firms Essent and Nuon had been partly owned by the provinces of North Holland, Friesland, Gelderland, Overijssel and the City of Amsterdam. "The provinces raised around €16bn by selling these gray stocks. However, the problem was local authorities just didn't react, there was no enthusiasm for offshore wind. It doesn't seem to be on their agenda. All of these authorities have their own sustainability goals to be able to be C02 neutral by 2040/50 so it is a great pity."
However, although there are no firm plans for a new fund for the Gemini project as yet, Meewind is still talking to Typhoon Offshore. "We have contact and we are also looking at German offshore wind farms. But currently we have enough with Belwind Phase Two and a new renewables fund."
Future plans
The organisation has just decided to launch a "Regional Renewables Fund", in addition to its offshore fund. Warm and cold air is stored in the ground and used for central heating and air-conditioning for office buildings and residential use. "This is something close to home for people and there is a lot of interest in starting up their own energy cooperatives. This new fund gives them the opportunity to invest in renewable energy, which supplies very local energy."
Even though offshore wind in the Netherlands is proving a tough nut to crack, Meewind is undeterred. Mr Smelik says: "It is going pretty well but we would like to speed things up ten fold!" He argues that it is difficult to encourage investment into offshore wind because there is not a consistent policy on sustainability issues in the Netherlands. "There does not seem to be a vision for offshore wind."
In Belgium there is a large group like the Colruyt Group on board and the government is willing to invest and has a vision for the offshore grid, he emphasises, "This vision is vital."
He laughs that it should be like the movie "Once upon a time in the West" (at least the part of the film that relates to the railroad being laid across America). "It is crucial to know where to locate the wind farms to get optimal use of the wind, where the cables should be etc," he says.
Certainly offshore wind will remain an important part of the group's portfolio. "We hope to set up fund for a Dutch wind farm in the future but for now there is plenty of demand in Belgium."
"Overall, we are pleased to be growing in these challenging economic times and ultimately we are happy as long as we can get renewable energy from somewhere!" he adds.
Helen Hill