UK: South Boats IOW Delivers First of Class Crew Transfer Vessel to Wind Wave Workboats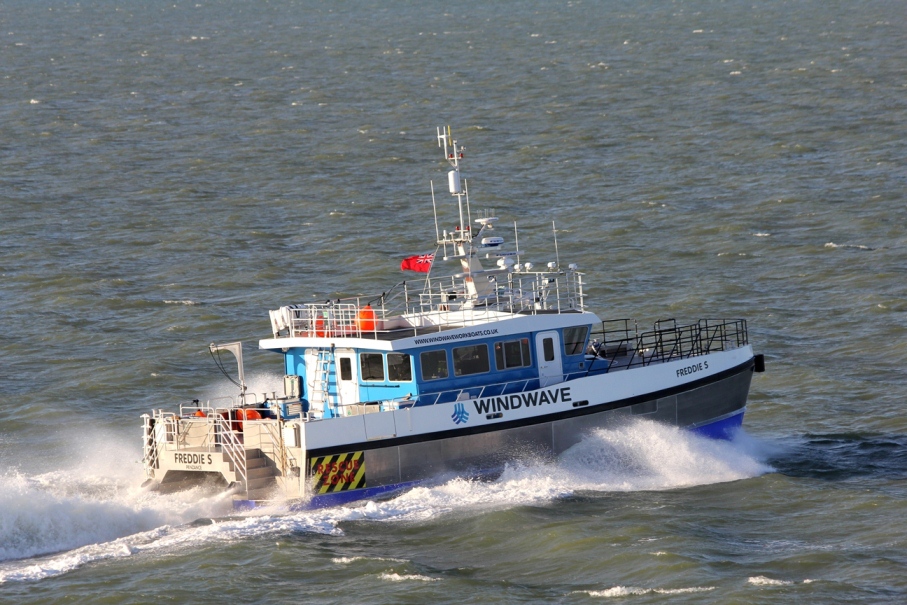 South Boats IOW Ltd. announced the launch and commissioning of the offshore wind farm crew transfer vessel, 'Freddie S'. The vessel is a first of class South Catamaran 17.5m Vigilante design and has been delivered to Windwave Workboats Ltd.
Windwave Workboats has been delivering offshore wind farm support services since 2008 and its vessels have worked on many of the offshore wind farms in England and Wales in that time. Windwave Workboats has added to its fleet with the 'Freddie S' and the company has already been successful in securing a contract for the vessel which has gone straight to work at Centrica Energy's Lynn and Inner Dowsing wind farms for Siemens, supporting warranty & retrofit operations.
Peter Scriven, Commercial Manager for Windwave Workboats, says "The 'Freddie S' has been very well received by Siemens, who also employ her sister ship. I am delighted with the quality of the 'Freddie S' and the work that South Boats IOW have put into her delivery. The design of Windwave's workboats combined with the professional, reliable and flexible service the company provides ensures we are able to continue securing contracts for our expanding fleet".
Steve Thacker, Director of South Boats, says "We are delighted to deliver the 'Freddie S' to Windwave Workboats. The vessel marks a milestone as the first to be delivered under South Boats IOW ownership and continues the strong heritage South Boats has delivering vessels from the Isle of Wight to the offshore renewable sector".
The 'Freddie S' has an LOA of 17.5m, Beam of 7.4m, Draught of 1.6m and a lightship displacement of 40 tonnes. The vessel has been designed with lifting eyes and to take the ground. The 17.5m Vigilante is a development of the smaller 16m Vigilante acquired when the company purchased the assets of Lyme Boats Ltd.
Powered by twin MTU 8V2000M72 965mhp diesel engines and Twin Disc Quickshift gearboxes driving Clements Marine shafting and fixed pitch propellers the vessel achieved a sprint speed of 23+ knots and is capable of cruising at 21 knots with full tanks and a full complement of 12 passengers. The vessel has an approved stability booklet to carry up to 12 tonnes of cargo.
The vessel features anti-noise and vibration paint coatings, double glazed windows, remote air intakes and outlets, noise and vibration absorbent sole panels and isolated side and overhead panelling gives a quiet and vibration free passenger saloon.
The 'Freddie S' is the first vessel to be delivered by South Boats IOW Ltd. following its acquisition by Alicat Workboats Ltd. The company has now moved sites to Medina Yard at West Cowes on the Isle of Wight and is currently completing 24m vessels for delivery summer 2013.
[mappress]
Press release, January 29, 2013; Image: southboats