Belgium: Large Climatic Chamber in OWI-Lab Test Facility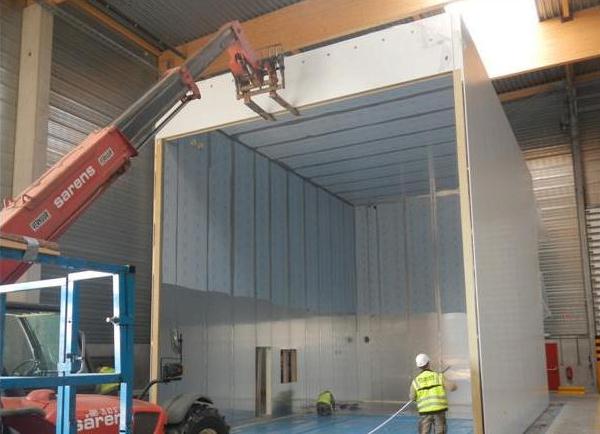 Since the beginning of March Imtech and CTS Benelux are building a large climatic chamber in OWI-Lab test facility.
This brand new facility located in the port of Antwerp will focus on accelerated lifetime testing of large and heavy wind turbine components such as multi-MW gearboxes, transformers, generators, yaw systems etc. For testing cold starts of gearboxes in this climatic chamber, also a 1,4MW drive will be purchased this year. For electrical testing, high voltage supply will be available.
Reliability will become an important topic when it comes to wind energy in general. Specifically focusing on offshore wind energy, reliability is an important topic because of the expensive O&M costs. Service engineers can repair components quite quickly when it come to onshore wind energy, in offshore conditions technicians are dependent on the weather conditions. Also the remote locations of these offshore wind farms (sometimes more than 50 km out of shore) has its consequences in repair time, repair costs and revenue losses.
 The challenge for the offshore wind energy industry today is to bring down the cost of energy. This can be done by looking into new O&M strategies including preventive maintenance for example. On the other hand, making sure that you all components are reliable in every possible operating condition is key. Most offshore wind turbine components should be capable of operating at a temperature range of -20°C to +40°C, depending on the site where these machines are installed. In some low temperature regions offshore wind turbines should be capable to withstand -30°. For onshore turbines, the requirement can be even -40°C if we look into remote area's and extreme cold climate locations. R&D testing and prototype validation at these extreme temperatures has to be done to ensure these components are reliable in every operating condition. OWI-Lab's test facility will make sure component suppliers and OEM's have access to specific test infrastructure in order to fulfill their testing needs when it comes to accelerated lifetime testing.
At this moment the housing of the climate chamber is yet installed on side, next step will be the installation of the cooling equipment and all other necessary equipment to start the first tests. All infrastructure of the test facility should be operational in early summer.
[mappress]
Offshore WIND staff, March 27, 2012; Image: owi-lab