DNV Inks Contract to Certify DolWin Beta Transformer Station (Germany)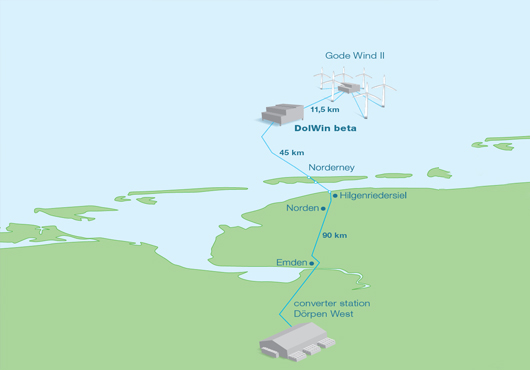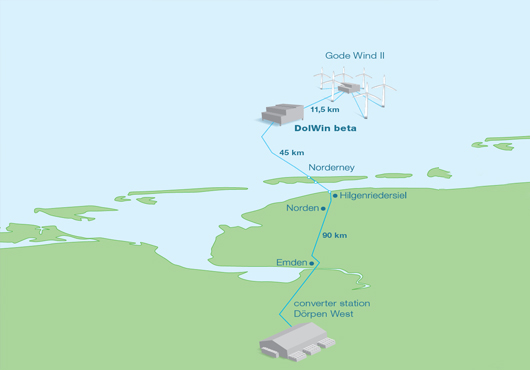 DolWin beta is a transformer station operated by TenneT, one of Europe's largest grid operators. DolWin beta will be built as part of a large offshore wind farm cluster in the German sector, approximately 45 km off the German coast in the North Sea. It will receive alternating current from wind farms and convert it into direct current before transmission via subsea cables.
The platform on which the station is located is the size of a football field and will stand on the seabed at a depth of about 30 metres. According to the existing plans, DolWin beta will be towed out and installed on the DolWin field in the summer of 2014. The station will have a capacity of 900 MW and can receive electricity from several wind farms, sufficient for 1.5 million households.
"Due to the size of the investments required for offshore wind projects like this, third-party certification services are a significant benefit for owners, investors, and insurance providers as a means of reducing risk and protecting investments," says Frøydis Eldevik, Director of Operations, DNV Cleaner Energy Europe.
Matthias Laatsch, DNV's Business Development Leader for Wind Energy in Germany adds: "During the project design stage, project certification provides an additional benefit by identifying potential issues and thus minimising the need for design changes at later stages of the project."
DNV will certify the design phase, construction, fabrication, transport and commissioning of the station. The station will be certified according to DNV's DNV-OS-J201 offshore standard.
The platform will be constructed in an overseas shipyard and equipped in Norway.
TenneT is the first European cross-border transmission system operator. With about 20.000 kilometres of high-voltage transmission lines and 36 million consumers in the Netherlands and Germany TenneT is among the top 5 transmission system operators in Europe. The focus of TenneT is to develop a Northwest European energy market and to integrate renewable energies.
[mappress]
Offshore WIND staff, November 29, 2011; Image: tennet