Dutch Stop Offshore Wind Turbines to Protect Migratory Birds in 'International First'
The wind turbines at Borssele and Egmond aan Zee offshore wind farms were stopped for four hours on 13 May, to help migrating birds pass by safely.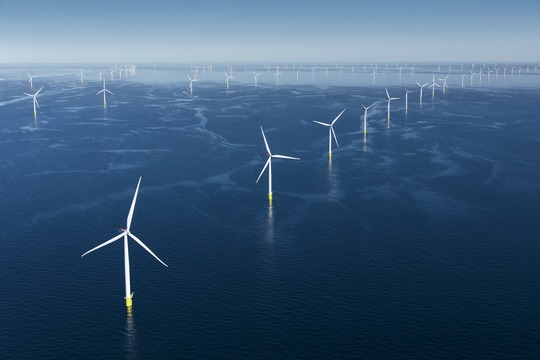 According to the Dutch Government, this is the first time such a measure has been applied and is in line with the approach of the government and participating companies to increasingly focus on ecology and biodiversity in offshore wind farms.
The wind turbines' speed will be reduced to a maximum of two rotations per minute during the predicted night-time peak migration to give the birds a safe passage.
The shutdown was part of a pilot phase, which could become standard this autumn and will also include wind farms that are still being built or will be constructed in the future.
"This is an international first, nowhere in the world are wind farms at sea shut down to protect birds during massive bird migration. We want to keep the impact of wind farms on nature as small as possible and we do this with this measure, among other things", said Rob Jetten, the Dutch Minister for Climate and Energy Policy.
At the end of 2022, a PhD student at the University of Amsterdam delivered a bird migration prediction model that predicts bird migration two days in advance.
The migration model uses weather data and various bird radars on the North Sea. A group of migratory bird experts also predicts the probability of large bird migration two days in advance which should give grid operator TenneT enough time to guarantee the stability of the high-voltage grid.
"Twice a year, in spring and autumn, millions of birds migrate across the North Sea on some nights", said Tim van Oijen from Vogelbescherming Nederland.
"With the growth in the number of wind farms in the North Sea, it is extremely important that we do this in the most ecologically responsible way possible with minimal impact on the North Sea. The temporary shutdown of the turbines during bird migration contributes to this."
Egmond aan Zee is the Netherlands' first offshore wind farm, consisting of 36 Vestas V90-3.0 MW wind turbines located 10 to 18 kilometres off the Dutch coast.
Ørsted's first offshore wind farm in the Netherlands, Borssele 1 & 2, was fully commissioned in 2020. Located 22 kilometres off the coast of the province of Zeeland, the 752 MW project comprises 94 Siemens Gamesa 8 MW wind turbines. A year later, Borselle 2 & 3 became fully operational as well.
Major offshore wind players are starting to invest in various technology and conducting several studies on bird protection.
At the beginning of this year, Vattenfall reported the findings of a study into seabird behavior that employed a straightforward approach – recording seabirds that are flying near its Aberdeen Offshore Wind Farm.
Ørsted also invested, together with its partners, in a "deep-tech" start-up Spoor that is developing an artificial intelligence (AI) system to monitor and track birdlife at offshore wind farms.
Follow offshoreWIND.biz on: