UK Ports Need GBP 4 Billion Investment to Help Unleash Floating Offshore Wind Industry – Report
A new report by the Floating Wind Offshore Wind Taskforce says up to eleven ports around the UK will need to be transformed as fast as possible into new industrial hubs to enable the roll-out of floating offshore wind at scale.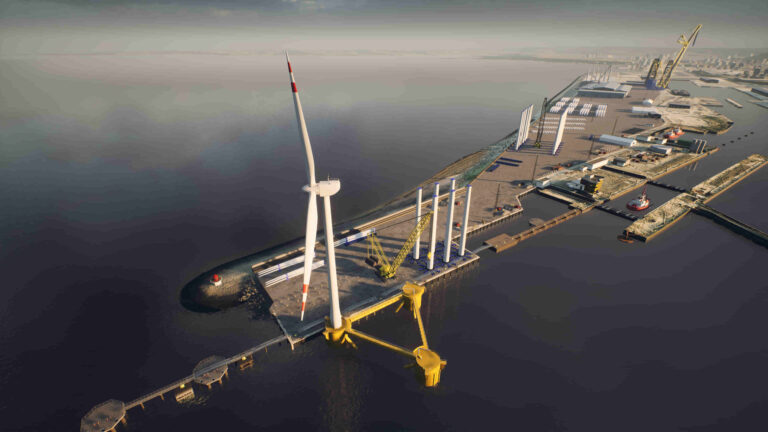 The report contains a series of recommendations which could see 34 GW of floating wind installed in UK waters by 2040 if the country's government takes swift and decisive action. At present Ministers have set a target of 5 GW by 2030.
The Taskforce includes the UK, Scottish and Welsh Governments, the Northern Ireland Executive, major offshore wind and port developers, The Crown Estate, Crown Estate Scotland, RenewableUK, Scottish Renewables, the Offshore Renewable Energy Catapult, and other key stakeholders.
The UK is well positioned to become a global leader in cutting-edge floating wind technology, with the biggest project pipeline in the world of 37 GW, one-fifth of the global pipeline, and the potential to create tens of thousands of new jobs and attract billions in private investment.
Floating wind farms can be built in deeper waters, further from the coast, where wind speeds are even higher. The report highlights the fact that this technology will play a key role in decarbonisation and that it is essential for the UK meets its energy security and net-zero targets.
To enable the UK to scale up, the report recommends developing ports as soon as possible by investing GBP 4 billion to ensure they are ready for mass floating wind deployment by the end of this decade.
Port upgrades are needed to enable turbines with hub heights taller than 150 metres and their giant floating bases to be manufactured and assembled in coastal locations. The initial focus will be on Scottish ports and the Celtic Sea (Wales and the south west of England) where floating projects are currently being planned.
Initially, a minimum of three to five ports will be needed in Scotland to install turbines onto the floating bases, with a further two ports needed to service the Celtic Sea sector.
"The ScotWind leasing round, involving 20 projects and a total of 27.6GW of clean energy, will need a number of upgraded port and harbour facilities to support projects with the potential to help cement the UK's position as a world leader in floating offshore energy," Colin Maciver, Head of Offshore Wind Development for Crown Estate Scotland, said.
Additionally, at least four other UK ports will need to be revitalised for manufacturing massive steel and concrete components for floating foundations. More ships and bigger cranes will also be required in the construction process, creating further industrial opportunities – particularly as there is strong international competition for these among both floating and fixed-foundation offshore wind developers.
"The 14 floating wind projects announced as part of the ScotWind Leasing round mean Scotland has the most seabed dedicated to develop commercial floating wind anywhere in the world. This gives us a once in a lifetime opportunity to create a major new sector to drive the UK economy and Scotland's ports are essential for the expansion of this emerging technology," Emma Harrick, Head of Energy Transition and Supply Chain at Scottish Renewables, said.
"The two Green Freeports in Scotland, Cromarty Firth and Forth Green Freeport, announced earlier this year, will help Scotland compete on the international stage as floating offshore wind grows to become the mainstay of electricity generation in the UK – but we urgently need further investment in other ports across Scotland. Time is of the essence and it is vital that The Scottish and UK Governments invest in Scotland's ports to build the essential infrastructure we need to kickstart the floating offshore wind industry."
The report notes that implementing the recommendations required to reach 34 GW of floating wind by 2040 will generate GBP 26.6 billion in additional GVA (total economic activity) in the UK, which in today's value is about GBP 18 billion. It calculates that every pound invested in UK port facilities would generate up to GBP 4.30 of added value to the country's economy, and by 2040, the floating offshore wind industry will support 45,000 jobs across the UK.
"Getting onto the front foot to make the most of our enormous floating wind resource is essential to boost Britain's energy security and deliver net zero as fast as possible. At the moment there are no port facilities in this country which are fit for the mass deployment of floating wind, so we need to start revitalising them now as new industrial hubs, so that we're ready for this new sector to take off at scale by 2030. The timeline is tight and we will only be able to deliver on our ambition if we take action promptly and decisively," RenewableUK's Emerging Technologies Policy Analyst Laurie Heyworth, who worked on the report with engineering consultants Royal HaskoningDHV, said.
"The UK has the largest pipeline of floating wind projects in the world. We're determined to ensure that we maximise the benefits of this innovative industry by capturing significant market share not only in this country but also by exporting our technology and expertise globally. Four-fifths of the world's potential offshore wind resources is in deeper waters, so floating wind is a key technology which industry and Government must ramp up now, so that we can maintain our global lead in the decades ahead."
The new report, "Industry Roadmap 2040: Building UK Port Infrastructure to Unlock the Floating Wind Opportunity", is sponsored by RenewableUK, Scottish Renewables, The Crown Estate, and Crown Estate Scotland.
"Floating offshore wind is an exciting new frontier in our transition to a more sustainable future, and it's great to see this report recognise the potential of the Celtic Sea and the hard work we and others are doing to bring this opportunity to market as quickly as possible," Nicola Clay, Head of New Ventures at The Crown Estate, said.
"There is a huge opportunity for the UK to show international leadership in in the race to deploy this new technology at scale, however it is clear from our own dialogue with developers and ports that this must go hand in hand with the rapid establishment of a new supply chain and upgrading ports. This will require collaboration, confidence and investment by all involved if the UK is to build the foundations for this industry to truly thrive and realise the full range of benefits on offer."

ADVERTISE ON OFFSHOREWIND.BIZ
Get in front of your target audience in one move! OffshoreWIND.biz is read by thousands of offshore wind professionals daily.
Follow offshoreWIND.biz on: