Sif Greenlights World's Largest Monopile Factory
Sif Holding has made a Final Investment Decision to construct the world's largest monopile foundation manufacturing plant in Rotterdam, the Netherlands. The construction of the EUR 328 million facility is expected to start in April 2023, Sif said.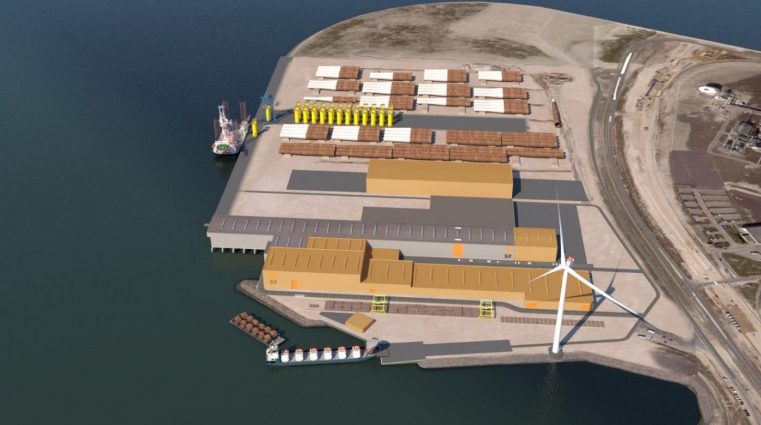 The plant will be built at the 62-hectare Maasvlakte 2 site in Rotterdam as an
extension of Sif's existing facilities. The first manufacturing operations fro the facility are scheduled to start in the second half of 2024.
The upgraded manufacturing plant is expected to significantly increase the total combined capacity of Sif to 500 kilotons a year and upgrade Sif's capabilities to manufacture the equivalent of 200 XXXL, 11-meter diameter, 2,500 tons reference monopile foundations a year. The lay-out is such that upgrades to facilitate even larger diameters can be made, according to Sif.
Once the expanded manufacturing plant is fully ramped-up, which is expected in the first half of 2025, the company projects EBITDA of EUR 135 million in 2025 and of at least EUR 160 million per annum from 2026 onwards. This results in a payback period of 3-4 years, Sif said.
Two launching customers, one of them being Ecowende, a joint venture of Shell and Eneco, together have committed to 348 kilotons of production, either booked or in exclusive negotiation, bringing the company's present total order book to 662 kilotons.
A long-term capacity reservation framework agreement with Equinor is in place while a second long-term capacity reservation framework agreement is currently being negotiated, which signifies strong commitment from both our customers and the market, Sif said.
These launching orders and long-term capacity reservation framework agreements are said to result in strong visibility of future projects and provide significant support to the long-term financial position of the company.
"By constructing the world's largest monopile foundation manufacturing plant and by implementing next level integrated manufacturing technology with second to none process and quality controls, Sif will live up to its vision and take a pivotal step in securing its next phase of growth," Fred van Beers, CEO of Sif, said.
"As a result of this investment, we will strengthen our absolute global leadership position as monopile foundations solutions provider, enhance our innovative skills and create long term value for all our stakeholders with a clear growth path in an accelerating global offshore wind market. An important basis for the plan is the responsibility taken for safety and sustainability in building the facility as well as the design and operation of the production process."
Sif added that a solid financing plan for the expansion facility has been committed through a combination of EUR 100 million advanced factory payments from the launching customers, EUR 50 million preferred equity from Equinor, EUR 50 million common equity to be raised through a rights offering, which is fully underwritten by the company's largest shareholder Egeria, through Grachtenheer 10 B.V., at EUR 11.50 per share, EUR 40 million in operational leases and EUR 81 million of term loans to be provided by Invest-NL and a consortium of commercial banks, with the remainder being funded through cash and cash equivalents.
Grachtenheer 10 as the cornerstone shareholder is said to be fully supportive of the expansion plan and has committed to participate in and underwrite the rights offering and vote in favour of the relevant EGM resolutions.
"I am thankful for the insights and constructive discussions we have had with our business partners including equipment and material supply partners, customers, management and employees, the works council, investors, supervisory board, industry experts, central and local governments, funding partners and our Cornerstone Shareholder, Egeria. I especially want to thank Equinor for its substantial contribution to long-term funding through preferred equity and our launching customers, among whom Ecowende, for their confidence in Sif to support a state-of-the-art facility that can deliver the monopile foundations for their respective projects and for their advanced factory payments," van Beers said.
The Finial Investment Decision is subject to various customary conditions and to the granting of an irrevocable building permit. All relevant procedures are on schedule for the start of the construction activities, Sif said.
Follow offshoreWIND.biz on: