Price Alone Will Not Decide Winners of Trillion-Dollar Offshore Wind Prize – Wood Mackenzie
Cumulative global capex spend in the offshore wind sector is expected to hit USD 1 trillion by 2031, but investors will no longer only be competing on price alone, according to a new report by Wood Mackenzie.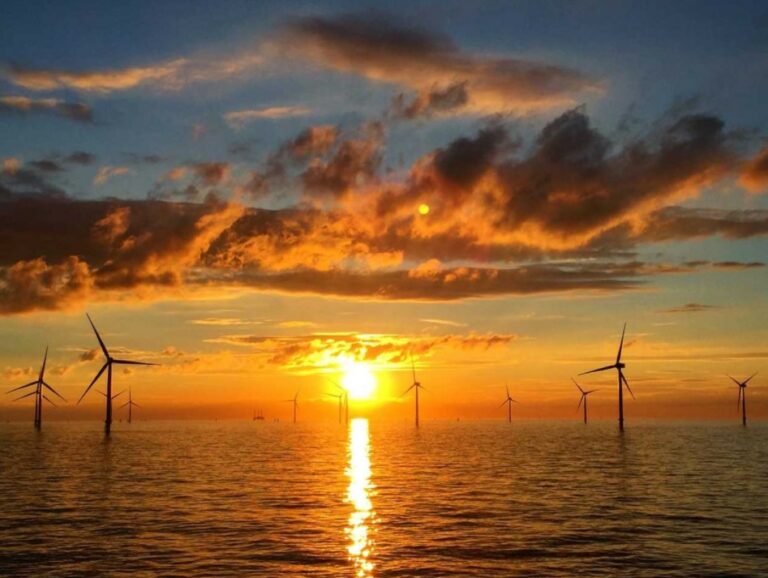 Offshore wind is poised to become one of the key technologies powering the decarbonisation of the global economy, the technology is proven, and investors have confidence in it, according to the report.
By 2030, Wood Mackenzie expects 24 countries to have large-scale offshore wind farms, up from nine today. Total installed capacity will reach 330 GW, up from 34 GW in 2020.
"Companies are now jostling to bag a share of the trillion-dollar offshore wind industry," Soeren Lassen, Head of Offshore Wind Research, said.
"The pipeline of proposed projects grew 66% last year and is now nearly three times as high as our projected forecast offshore wind capacity in 2030. The challenge is that few opportunities in the offshore wind space will go uncontested. As more companies bid, lease payments skyrocket and subsidies drop, project returns are falling."
According to Lassen, cost competitiveness will always be the central element of successful offshore wind bids, but a new set of factors is also gaining traction and will determine who wins and who loses in the industry.
"These four factors – local content, systems integration, ecological mitigation and sustainability – will necessitate a strategic shift for competitors in offshore wind," Lassen said.
Wood Mackenzie estimates that almost 80 per cent of capacity connected this decade will be influenced by local content policies. Each market will have its own flavour of local content rules and require different strategies as countries work to ensure compliance with World Trade Organization regulations. The size of the economy in comparison to the size of the offshore wind opportunity will also influence local content rules. Competing on local content will require offshore wind participants to have the skills and capabilities to establish and mobilise local workforces and industries, according to the report.
Systems integration involves combining offshore wind projects with other technologies and capabilities that help economies decarbonise and produce greater value from the offshore wind project. It can include, for instance, pairing offshore wind with electrolysers to produce hydrogen, energy storage, interconnections to multiple regions, providing ancillary services, and floating solar projects.
Systems integration will be most important in markets where the share of renewable resources is high, providing reliable supply is increasingly challenging, and where governments are committed to reaching net-zero targets and will, therefore, support green hydrogen development, Wood Mackenzie said.
The three wind energy islands proposed in Denmark and Belgium that pair together in different combinations offshore wind, interconnections to multiple markets, storage, and hydrogen production are the most prominent and ambitious examples of systems integration to date.
Systems integration will present significant challenges to some offshore wind players, as the capital and range of capabilities needed spill over into additional technologies, power market wholesale marketing and trading capabilities, and developing markets for green hydrogen, the report said.
Ecological mitigation refers to maximising the use of the sea while minimising environmental impact. Some examples include mitigating environmental damage during installation, enabling coexistence with marine activities such as fishing, and maximising gigawatt-hours of production within a specified area. Successfully addressing ecological mitigation requires an understanding of and willingness to collaborate with other users of the sea early in the project lifecycle, according to Wood Mackenzie.
Sustainability will take two forms in offshore wind – reducing the lifecycle emissions of offshore wind projects and recyclability, according to the report. Although offshore wind is one of the lowest CO2 emitting renewable technologies per kilowatt-hour, there are opportunities to reduce emissions intensity, such as procuring green steel, lowering emissions from transportation, and purchasing parts produced in countries with greener electricity supplies.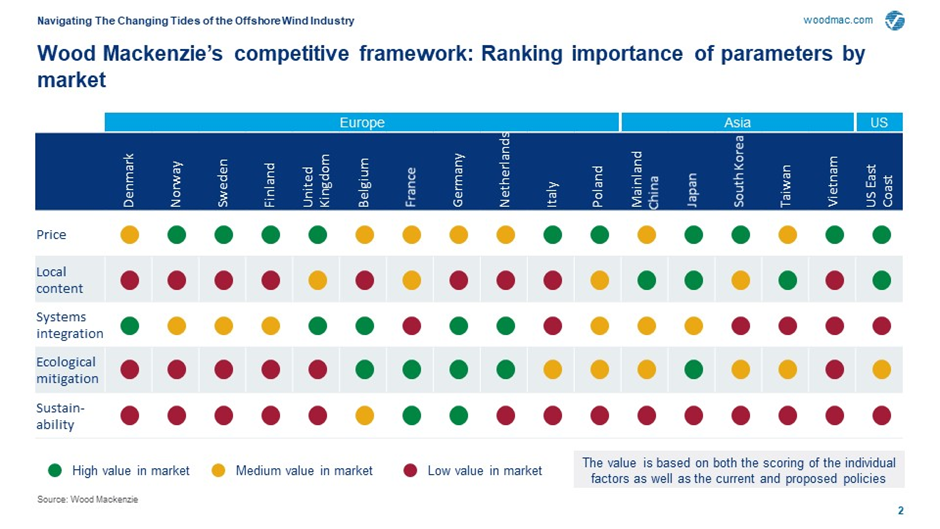 "The focus is now shifting to multiple criteria to determine tender and lease auction outcomes, and the criteria in individual markets will differ. To succeed, investors need to be able to anticipate the important criteria in each market, have the capability and skills to execute and meet those criteria, and understand the trade-offs and synergies between them," Chris Seiple, Vice Chairman for Energy Transition, said.
According to Wood Mackenzie's new framework for assessing important criteria in major offshore wind markets across the globe, it is price and local content policy that stood out most in several Asian markets and the US, although ecological mitigation is starting to play a more prominent role.
Most recently in the US, commitments to contribute to local workforce and infrastructure investments have already exceeded USD 1 billion. In much of Northern Europe, all criteria are now coming into play to some extent, depending on the country.
"It is also important to note that these criteria will continue to evolve and change in individual countries as costs fall, variable renewable energy generation increases, the sea becomes more crowded, and sustainability policies evolve," Seiple said.
As the industry rallies around these criteria and grows, there will be significant impact on job creation, emissions reductions, turbine recyclability, marine ecology, local stakeholders, and the grid, Wood Mackenzie said. Successfully delivering on the new parameters is expected not only to benefit the winners in the offshore wind sector, but also offer broader societal benefits.
"Importantly, the new parameters offer opportunities to solve larger challenges that are difficult to tackle in isolation, not least green hydrogen, where offshore wind tenders can be combined with projects that will help to grow the green hydrogen business. It is crucial, therefore, that developers consider who they are partnering with, not just who they are competing against," Lassen said.
Follow offshoreWIND.biz on: