Scottish engineering innovator Pict Offshore has signed a deal with Ørsted to deploy the 'Get Up Safe' (GUS) motion-compensated lifting system at New York's first offshore wind farms.
The deal with Pict Offshore will see the system deployed at the 132 MW South Fork Wind offshore wind farm, as well as two further projects off the North East US coast – Revolution Wind and Sunrise Wind.
The three offshore wind farms, with a total capacity of approximately 1.8 GW, form the core of a 50-50 partnership between Ørsted and Eversource, New England's largest energy company.
The agreement is the first export opportunity for Pict, Ørsted said.
Pict Offshore Managing Director, Phil Taylor, said: "We are incredibly pleased and proud to have been selected as the access system for Ørsted and Eversource's Northeast USA windfarm projects. This is a fantastic demonstration of faith from Ørsted; in the future of ladder-less foundations and in the Get Up Safe as a preferred means of access. As Pict's first overseas order, it also provides the basis for strong export growth in future and further cements our position in the offshore wind supply chain."
The addition of the GUS onto offshore wind turbines means external ladders are no longer necessary, streamlining the foundation and reducing steelwork requirements – boosting both safety and the potential for construction and through-life cost reductions, according to Ørsted.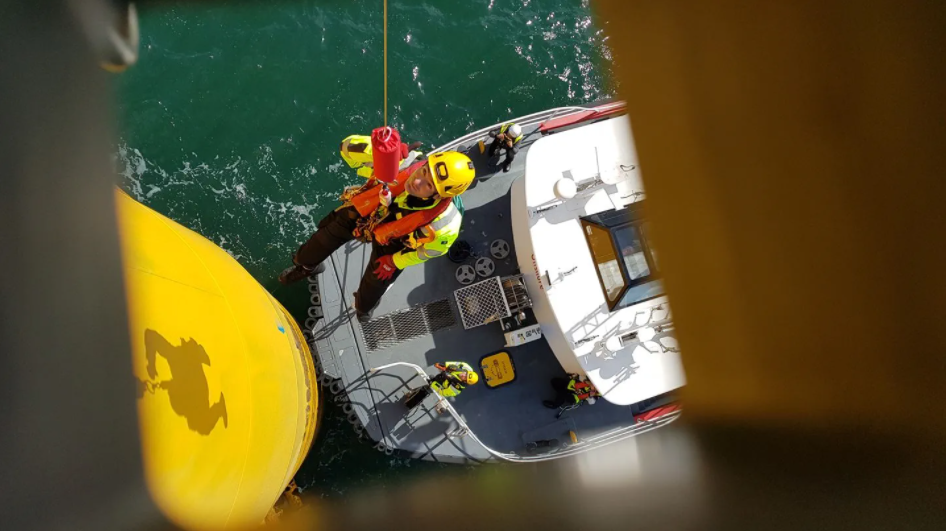 With the GUS system in place, technicians will be lifted and lowered directly to and from crew transfer vessels and the turbine platforms. This removes the need for technicians to step between the bow of the vessel and a ladder.
The GUS system tracks the motion of the vessel deck and automatically adjusts the line position to ensure that transferring technicians are always kept safe, even if the vessel is moving in variable wave and weather conditions.
The project is the result of a three-year collaboration between Ørsted and Pict Offshore, during which time, Ørsted has taken a minority stake in the company.
Development of the product commenced in 2016 and was supported by Scottish Enterprise through a GBP 250,000 Regional Selective Assistance grant.
From 2017, prototypes of the system were tested at the Offshore Renewable Energy Catapult's 7 MW Levenmouth Demonstration Turbine in Scotland and featured in their "Backing the Game Changers" campaign.
Further field trials of the system have been hosted offshore at Ørsted operating turbines in UK waters, followed by testing and validation of serial-produced systems, and trials and training for users.
Manufactured at Pict Offshore's facility in its facility in Inverkeithing, Fife, the GUS system has already been deployed at Hornsea Two offshore wind farm – which is set to become the world's largest offshore wind farm on completion in 2022.
Duncan Clark, Head of Region UK at Ørsted, said: "We are delighted to be announcing Pict's first export order having worked closely with this innovative company for a number of years. This demonstrates what can be achieved when Government, developers and the supply chain work together, as well as reinforcing Ørsted's commitment to investing in the Scottish supply chain."