Lhyfe, DORIS Plan to Launch Hydrogen-Producing Floating Wind Turbine
France-based green hydrogen technology developer Lhyfe and engineering company DORIS have signed a Memorandum of Understanding (MoU) on working together on offshore hydrogen production projects, with a plan to launch the first floating wind turbine for integration with a hydrogen production system.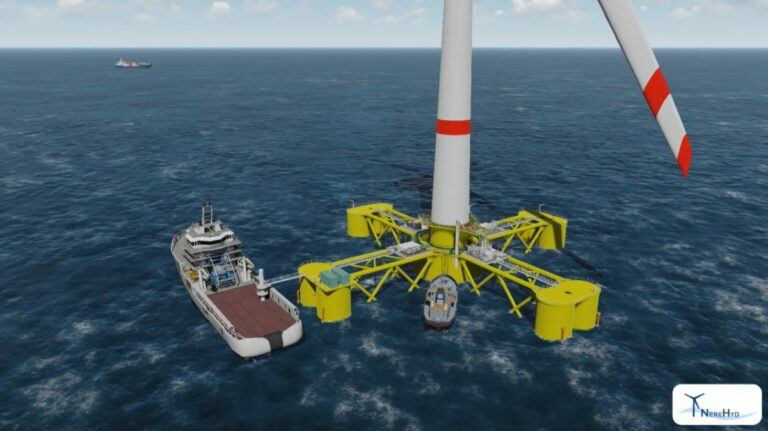 The partners will work on finalising the development of their proprietary solution called NerehydTM, which combines Lhyfe's renewable hydrogen production expertise with DORIS' floating wind turbine solution NerewindTM, the companies said in a joint press release.
The solution incorporates a hydrogen production facility into the floater of a wind turbine and could be deployed for on-grid or off-grid applications, from single 10 MW wind turbines to large-scale wind farms with several hundred megawatts of capacity, according to the new partners.
The project is worth around EUR 60 million, including research and development and the production of the first prototype in 2025.
"While we have no doubts that producing green hydrogen on land will be the first step in large-scale global development, we deeply believe in the need to move rapidly offshore to meet the strong demand ahead, which will require a massive amount of electricity", said Xavier Grandiaud, Executive Deputy Managing Director of DORIS Engineering.
Along with finalising the design and developing and financing the pilot project, the MoU between Lhyfe and DORIS also includes the two companies working on identifying target projects for industrial-scale deployment.
Furthermore, in addition to the joint development of NerehydTM, Lhyfe and DORIS will also be studying the possibility of extending the collaboration to other types of offshore hydrogen production solutions.
"At Lhyfe, the reason we located our first production site near the ocean was to start producing in offshore conditions, because from day one we have been certain of one thing: offshore is the key to the massive development of renewable hydrogen", said Matthieu Guesné, CEO and founder of Lhyfe.
"We are starting to see more and more offshore wind farms and traditional players are keen to find ways to scale-up their infrastructures and solutions. We are therefore very optimistic about the development of this sector and are working to offer a range of solutions to adapt to each situation".
Lhyfe, in collaboration with Chantiers de l'Atlantique, is already working on installing the first offshore electrolyser connected to renewable energy technologies, including the Floatgen floating wind turbine, in France. Namely, the electroloyser, installed on GEPS Techno's floating platform at the SEM-REV demonstration site, is set to go online next year and become the world's first offshore green hydrogen production project.
Lhyfe's project in France is also one of the six projects that were just shortlisted for support through the EU-funded Ocean DEMO programme, which awards free access to test centres where successful applicants can test their ocean energy products and services in real sea environments.
The SEM-REV offshore test site meets all the criteria to validate the offshore hydrogen production technology before moving towards large-scale industrial deployment in 2024, according to earlier news about the project.