Buzzing Days at OEEC 2021
After two days of doing business, networking, celebrating innovation, and making new connections and collaborations, the 14th edition of Offshore Energy Exhibition & Conference 2021 (OEEC) can look back at a fruitful and inspiring event. The event brought together over 350 exhibitors and 5,000 visitors at the Home of Energy Transition in the RAI Amsterdam. Next year Offshore Energy Exhibition & Conference takes place on 29 and 30 November 2022.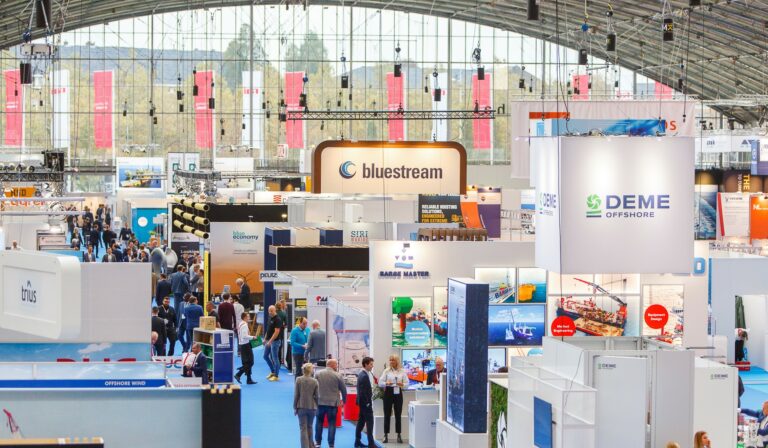 On 26 and 27 October RAI Amsterdam was the meeting place for a host of international clients, business leaders, industry experts professionals and governmental representatives. The event brought the offshore wind, marine energy, oil and gas and maritime supply chain together. They met, shared knowledge and connected face-to-face during the high-quality content program, at the many networking opportunities and in the exhibition hall. OEEC was for many visitors, exhibitors and other participants the first event to see each other in person again.
"This edition of OEEC proved again the importance of bringing people from the industry together to collaborate. Especially when it comes to the energy transition we need to learn from each other, collaborate and share knowledge," says Coert van Zijll Langhout, Director Navingo BV, organizer of OEEC.
Offshore Energy in a changing world
This year's content theme was offshore energy in a changing world. Four talk shows and six energy talks painted an energy landscape in transition. Several trends, like hydrogen, building with nature and maintenance by drones were analysed in presentations while other talks gave more insights at the different stages of growth of sustainable solutions, like offshore wind, green investments and LNG. With contributions – among others – from IRENA, Rystad Energy, Eneco, DEME Group, Brunel, GustoMSC, PwC, Gasunie, Fugro, Green Giraffe and Anthony Veder. Cross-market collaboration was a returning theme in all these discussions and gave the programme valuable insights and fresh perspectives on the offshore energy industry.
In addition an extensive masterclass and business programme took place, organised by the Government of the Netherlands for international government delegations and invited businesses from 31 countries including C-level representatives from Canada, Namibia, Chili, Japan, France, Urugay, Oman and Portugal. The programme included two high-level masterclasses on Dutch experience in hydrogen and offshore wind development. It also featured a networking programme alongside a day with several company and site visits in the field of hydrogen and offshore wind.
Business conversations and live studio programme
Doing business and networking was central at the event. During the exhibition days it was also possible to attend matchmaking sessions on-site and online, from helmet on helmet off quiz to a flying hydrogen boat there were some great sights on the exhibition floor.
For inspiration and knowledge gathering a free to attend Live Studio programme was presented. Business insights were shared in the Global Market Updates where trends and developments were presented in the fields or areas of expertise, including Occitanie region, European ocean energy, US offshore wind, Japanese, Polish and German markets.
Young professionals and students shared their view in Next Generation Perspectives, by a wide selection of representatives student and young associations like Young IRO, Energietalenten, Solar Boat Team and Young Energy Officer with backgrounds in electrical and mechanical engineering, marine technology, applied mathematics & physics and maritime officer. Exhibitors shared their innovations and visitors were able to put themselves or their business in the spotlight during a 90 second pitch. On top of this, a live reporter was present at the exhibition floor, which enabled the online event participants to see the latest innovations via their screen.
Human Capital
People are a critical factor to make all plans of the energy transition reality. That is why OEEC 2021 focused on the human capital side of the energy transition. This was visible on the exhibition floor, with the Navingo Career Event taking place simultaneously as part of OEEC. In the Live Studio with Employer Insights and Tips by TenneT, Huisman Equipment, Damen Shipyards Group, Nevesbu and MARIN. As well as in the conference program with the talk show A Changing Industry Means Changing People, where the human factor of the energy transition and the desire for a more inclusive workforce were discussed.
Special Recognition
The Green Maritime Methanol consortium was surprised by the event organiser. Making the energy transition happen, is hard work and requires collaboration. As appreciation OEEC selected this initiative with nine contributing exhibitors and provide it exposure among Offshore Energy's international community via its global reach.
2022
For those who missed out on the content program, all sessions have been recorded and are available On Demand. The next Offshore Energy Exhibition & Conference takes place on 29 & 30 November 2022.