New York Company Secures USD 86 Million Offshore Wind Foundation Deal with Ørsted and Eversource
Ørsted and Eversource have signed a USD 86 million (around EUR 74 million) contract with Riggs Distler & Company for the supply of wind turbine foundations for the Sunrise Wind offshore wind project in New York.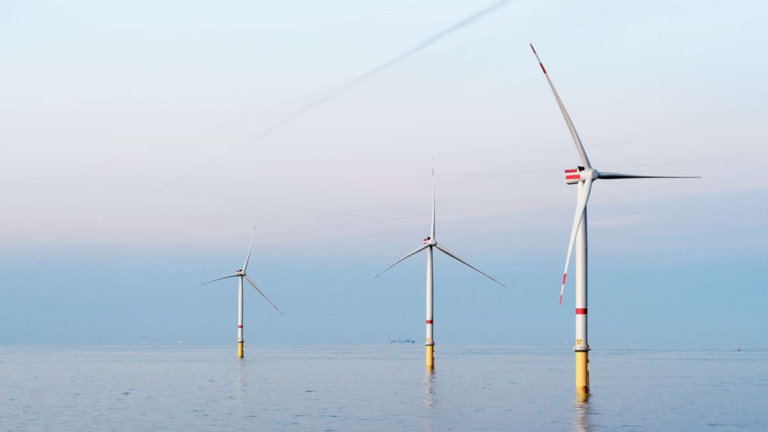 This represents the largest, single offshore wind supply chain contract award in New York State and positions the Port of Coeymans, where the foundations will be produced, to be among the first ports in the United States to be mobilised for the construction of foundation components for an offshore wind farm by US workers, according to a press release from Ørsted.
Under the agreement, Riggs Distler & Company, a wholly-owned subsidiary of Centuri Group, will serve as the general contractor to build the prefabricated foundation components at the Port. Once complete, the components will be shipped down the Hudson River and out to the Sunrise Wind offshore wind farm site.
The work is set to bring construction and steel manufacturing work to New York companies located in the Capital Region and Western New York, creating 230 jobs. It is anticipated 115 local union workers will be based at the Port of Coeymans to construct hundreds of large-scale components for Sunrise Wind's wind turbine foundations, including internal and external platforms, railings, steel ladders, cages, and other key parts.
New York company Ljungström will manufacture the steel components and deliver them to the Port of Coeymans, which will create at least 100 jobs in Western New York while the construction at the Port will be covered by a Project Labor Agreement. In accordance with the developers' commitment, Ørsted and Eversource will negotiate a Project Labor Agreement with the Greater Capital Region Building and Construction Trades Council, covering all construction work performed at the port in connection with the advanced components by Riggs Distler.
Additionally, many New York opportunities will emerge for local construction support, transportation, facilities, and material supply to support the advanced components scope for Sunrise Wind. These include concrete supply, site support services, facilities, lighting, and equipment.
Ørsted and Eversource, as part of Sunrise Wind, will also launch a USD 1 million workforce training initiative under the strategic leadership of the Center for Economic Growth. This will support activities related to the project's scope, help raise job opportunity awareness and ensure area residents will have access to offshore wind economic opportunities, including efforts to prioritise skills training and hiring within disadvantaged communities.
The Sunrise Wind project entered federal permitting process in August, when the Bureau of Ocean Energy Management (BOEM) announced its plan to start an environmental review for the proposed offshore wind farm.
The project, developed by Ørsted and Eversource, is proposed to be built in a lease area in federal waters approximately 31 miles (around 50 kilometres) east of Montauk, New York; 19 miles (around 30 kilometres) south of Martha's Vineyard, Massachusetts; and 17 miles (around 27 kilometres) offshore Block Island, Rhode Island.
Sunrise Wind is planned to have up to 122 wind turbines and an installed capacity of between 880 MW and 1,300 MW, which could power around 600,000 households with clean electricity.
The large-scale offshore wind farm would help New York meet its clean energy goal of achieving 70 per cent electricity from renewable sources by 2030, as well as the US goal of having 30 GW of offshore wind installed by that time.
New York State is set to offer its next offshore wind solicitation in early 2022, when it will also target significant port infrastructure and supply chain investment to further maximise the long-term economic benefits of the offshore wind industry.