Ampelmann's Electric A-Type Gangway Completes Trials at Princess Amalia OWF
Dutch offshore access provider Ampelmann has launched an electric version of its A-type gangway system, which is now fully operational after completing offshore trials on the Horizon Star vessel at Eneco's Princess Amalia wind farm in the Netherlands.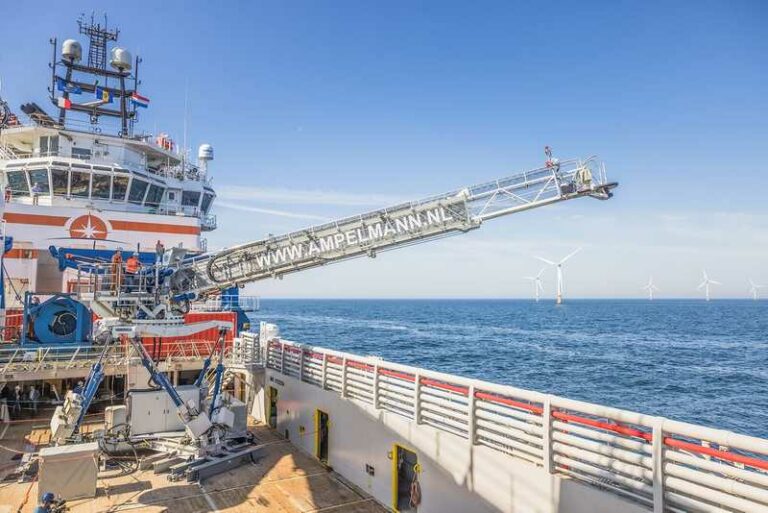 "Electric solutions, a lower carbon footprint and a strong commitment to sustainability are sure to be the future of the Walk to Work (W2W) industry", the company said.
The electric A-type is smaller and lighter, requiring fewer resources to operate compared to its hydraulic-powered counterpart. Weight is reduced by 40 per cent and energy use by 80 per cent, considerably decreasing the environmental impact of the system without compromising workability specifications, Ampelmann said.
"With the implementation of electric drives, large heavy components of the hydraulic system became redundant, including the 20ft power pack container", said Diederick Nierstrasz, Business Developer at Ampelmann. "Clients can expect the same capabilities as the non-electric A-type system, with an even higher reliability and ease of use."
Nierstrasz added that the electric drives have improved the A-type's accuracy and response time, while also eliminating the noise and vibrations the hydraulic-powered system used to produce.
Ampelmann has also presented an S-type gangway, a newly designed system based on the technology of the electric A-type, which will be deployed on Damen's new 7011 Fast Crew Supplier later this year.