Lamprell Eyeing Floating Wind, US Offshore Wind Market
Dubai-based offshore wind foundation manufacturer Lamprell is looking to tap into the opportunities in the growing floating wind market and the upcoming projects in the US.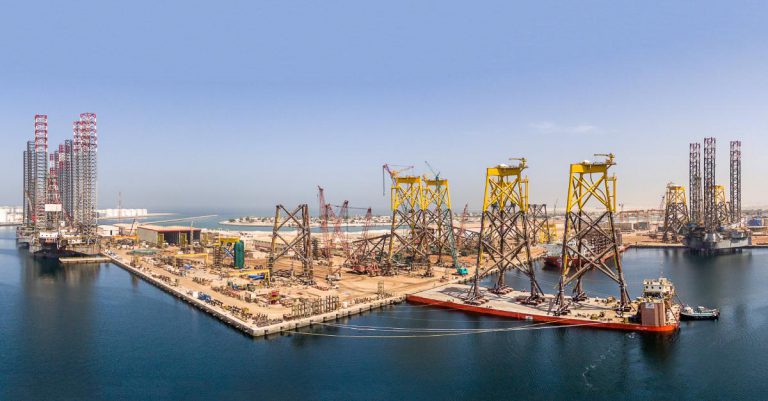 Lamprell has just published its annual financial results for 2020, with the company's Chief Executive Officer Christopher McDonald highlighting the goal of becoming part of energy transition through Lamprell's growing business in the offshore wind sector.
"The developments in the energy industry over the past few months have reinforced our commitment to offshore wind, where in less than five years, we have gone through a steep learning curve to build a solid global standing", McDonald said.
The company is now looking at a rapidly growing global opportunity set and potential to broaden its involvement and move up the value chain, its CEO pointed out.
"The industry is on the verge of explosive growth with multiple large-scale projects in the US and Asia about to join the continuing European offshore wind expansion. The technology and scale of this evolving sector are also changing, and our focus on jacket fabrication has the potential to expand to base structures for floating offshore wind and central platforms", Christopher McDonald said.
He further added that Lamprell had already commenced deployment of robotic welding technologies on some of its projects and that the company is developing proprietary technologies in asset integrity, engineering design, smart non-destructive testing, predictive maintenance and robotics.
For 2021, Lamprell's CEO said the company is seeing significant opportunities in all its addressable markets, with its bid pipeline now at USD 6 billion, including approximately USD 2.5 billion of prospective renewables projects.
"The sector continues to receive focused support from governments around the world and is seeing rapid growth; we anticipate over USD 6 billion of new renewables projects to enter the bid pipeline over the next 12 months", McDonald said.
Lamprell's backlog at 31 December 2020 was at USD 522 million, with approximately USD 470 million scheduled to run off in 2021.
The company is now also implementing a strategic reorganisation into three new business units: renewables, oil & gas, and digital. This will enable extracting maximum value from the company's expertise and market potential, according to the CEO.