Fugro Presents Real-Time Monitoring Solution for Floating Wind
Fugro has introduced a new system that monitors mooring line fatigue on floating wind turbines, designed in a consortium between Fugro, AS Mosley and the University of Strathclyde, and funded by the Scottish Government.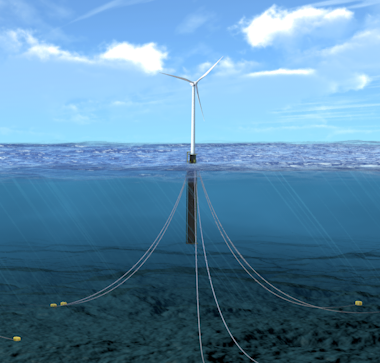 The mooring line fatigue tracker fuses the motion and position measurements of floating hulls with a simulation model to monitor fatigue, providing a cost-effective solution that enables minimising in-person inspections.
Instead of the current conventional five-year subsea inspection regime, tracking mooring line fatigue allows for inspection activities – which require vessels and remotely operated vehicles (ROVs) – to only be carried out when necessary.
Furthermore, the monitoring is continuous and can be used to detect any problems or failure scenarios, such as anchor drag or trawler snagging, as they happen for quick resolution.
With the technology already demonstrated in a relevant environment, Fugro and partners are now identifying opportunities to work with floating wind developers on pre-commercial projects to trial the solution offshore, the project consortium leader said.
The funding to develop the system was awarded to the consortium in March 2020 through the Floating Offshore Wind Technology Acceleration Competition (FLW TAC), which was run by the Carbon Trust's Floating Wind Joint Industry Project.