Fully decommissioning an offshore wind farm is the least cost-effective strategy for owners of projects reaching the end of their lifespan, the latest analysis from ORE Catapult's new joint industry programme shows.
On the other hand, partial repowering of offshore wind farms, which involves installing larger turbines at an old site, is the most cost-effective solution, the analysis from Circular Economy for the Wind Sector (CEWS), shows.
This option offers a maximum return to developers of GBP 221 million, extending the farm's lifespan by 25 years and its electricity generation by more than 34,000 GWh, according to CEWS.
This option needs to be factored into the site's leasing plan from the start, however, as it requires developers to either install bigger foundations in anticipation of larger turbines being installed at a future date or initiate an inspection plan to assess the monopile's structural ability to support a higher-rated turbine.
The analysis assumed that there would be no significant additional costs for foundation strengthening to support the turbine upgrade.
Full repowering offers a lower return to the developer of GBP 105 million, the analysis shows. The reduced return is because full repowering requires more than just replacing turbines as in partial repowering; it also involves replacing infrastructure like foundations and cables.
Life extension, on the other hand is different from repowering. It does not involve replacing any major assets like turbines, cables, or foundations; they remain in situ but are subject to minor repairs and corrective maintenance.
This approach delivers a net present value of GBP 148 million with the lowest investment cost of all scenarios studied. It also preserves the site's annual electricity production for an additional ten years. If this is increased to 15 years, the net present value would reach GBP 218 million, according to CEWS.
Fully decommissioning a site would see a negative return of net present value between GBP 22 million to GBP 55 million. Removing the farm's foundations, turbines and cables does not generate any future revenue, as well as being a costly process with the potential for delays, the analysis shows.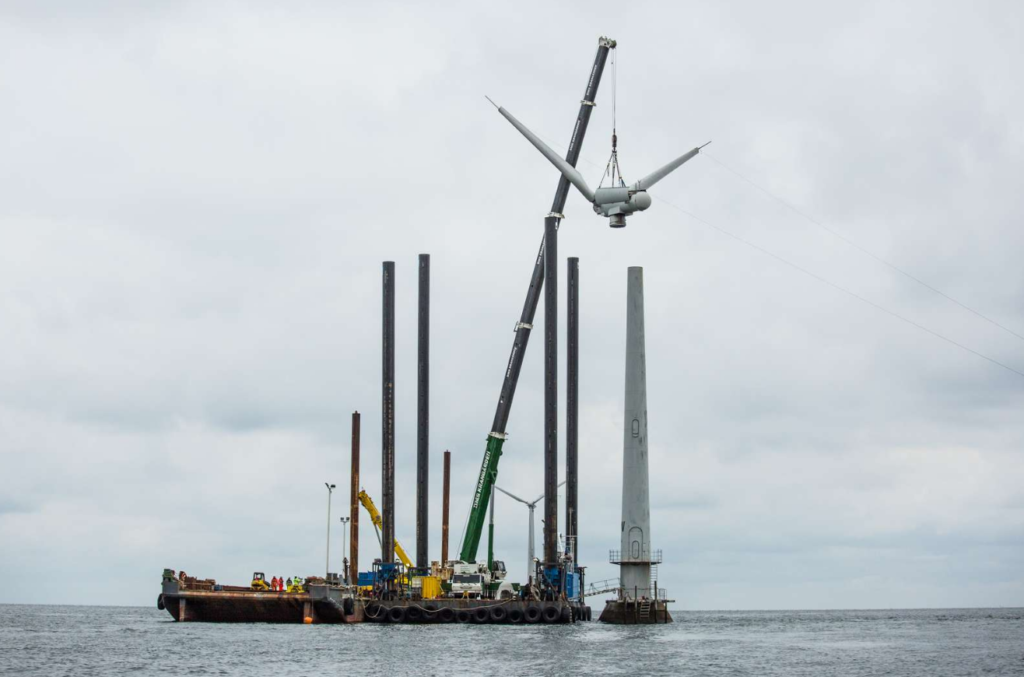 The cost-benefit analysis of each scenario refers to a representative UK offshore wind farm of 35 turbines with a 6 MW rating that will reach the end of its 25-year operating life in 2040.
Planning Ahead
The major issue surrounding this forward planning is a lack of experience in carrying out decommissioning of offshore wind farms simply because the sector is so new. All new sectors experience something similar when growth has been exponential, and research is rightly focused on developing productivity, ORE Catapult said.
In the future, developers will have to consider the options for decommissioning in more detail during the design phase of offshore wind farms to be able to plan ahead and make optimal adjustments for cost savings. At the moment, end-of-life strategies are not fully formed until the project comes to an end, and there is very limited regulatory support to guide wind farm developers.

Environmental Impacts
The costs of different scenarios also need to be weighed against their environmental impacts.
The report found that life extension offers the lightest carbon footprint at 63 tCO2e per annum. Full repowering created the highest emissions of 2,707 tCO2e per annum due to a heavier footprint from vessel use. In comparison, partial repowering results in 1,417 tCO2e, full removal 1,330 tCO2e, and partial removal 867 tCO2e.

ORE Catapult and RenewableUK are holding a joint virtual conference, Circular Economy + Renewable Energy, on 29 June to explore questions of decommissioning and sustainability for the wind industry and sectors with shared challenges.
Photo: Decommissioning of Vindeby, the world's first offshore wind farm. Source: Offshore Wind Ørsted