In November, Piriou has presented two new vessel designs for the offshore wind sector: a cable laying vessel designed to install and repair both fiber-optical and energy cables, and a hydrogen-powered crew transfer vessel (CTV).
The 100-metre cable-layer will be capable of installation of wind farm cables as well as of cable repair on the continental shelf or deep sea.
Equipped with two storage tanks, the vessel is able to embark and handle up to 1,000 tonnes of cable, with one of the tanks fitted with a carousel to deploy the energy cable.
With an optimised hull, the vessel will burn less than 10 tonnes of fuel per day in transit at 12.5 knots and is already compliant with the IMO III regulation, Piriou said.
"As PIRIOU's recently awarded hydrogen hybrid CTV, this high-tech product perfectly fits the group's strategy and answers our customers' requirements to make maintenance operations easier, to optimise operating costs and answer safety and new environmental regulations issues", the company stated.
Earlier this month, Piriou's hydrogen-powered CTV was announced as one of the three winners of the Offshore Wind Innovation Challenge set up by wpd and the Brittany maritime cluster.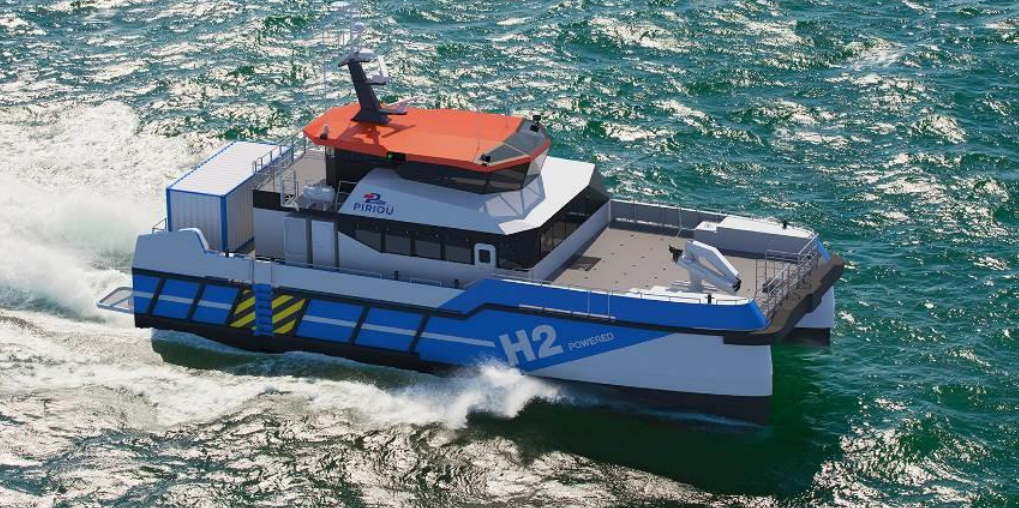 The 27-metre vessel features a dual engine propulsion, with two main engines having the power of 1,000 kW and fuel cells power being 280 kW in total at 140 kW each.
The CTV has a maximum speed of 25 knots and can carry 5 tonnes of cargo and 27 people, including a three-strong crew.