Tethys and Aerones Win Blade Robotics Innovation Competition
Tethys Energy Services (Tethys) and Aerones have won a competition to demonstrate a novel remote blade maintenance technique for offshore wind farms to GE Renewable Energy.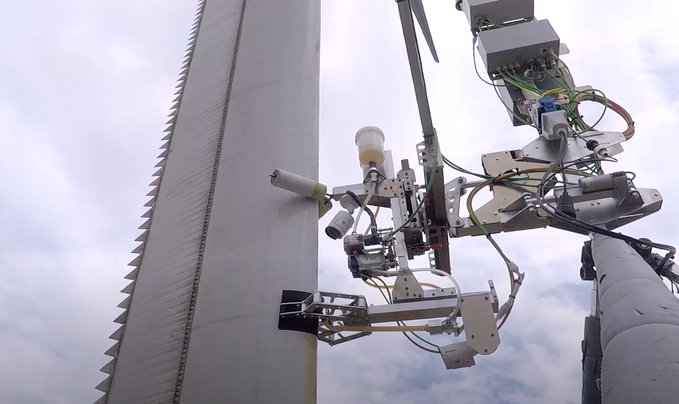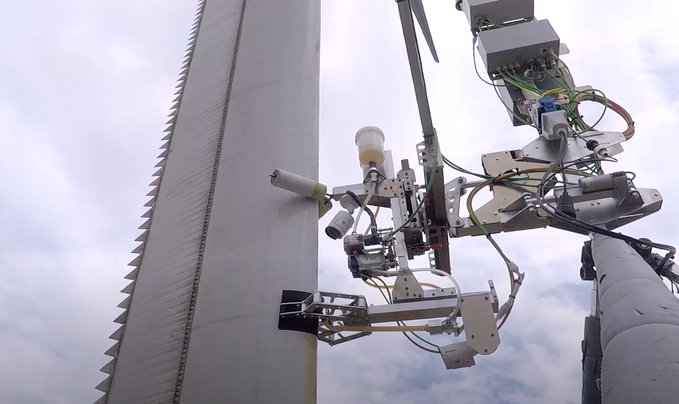 The two companies have won a blade robotics innovation competition launched by GE Renewable Energy, the Offshore Renewable Energy (ORE) Catapult, and KTN, which called for robotics solutions focussed on automating maintenance activities and reducing unplanned offshore activity during the O&M phase of offshore wind turbine blades.
Tethys and Aerones will deliver a new offshore transportation and delivery platform to enable the Aerones onshore wind robotics technology to work offshore.
The system will be able to deliver advanced remote inspection, maintenance and repair tasks on offshore wind turbine blades up to 5x faster than conventional rope access, drastically reducing turbine downtime, ORE Catapult said. The system is also said to be more scalable and much safer to deploy, removing the need for personnel to work at height.
The next stage in development will see Tethys and Aerones demonstrate their prototype technology on ORE Catapult's 7 MW Levenmouth Demonstration Turbine in Fife.
In addition, GE Renewable Energy will provide technical support and guidance on how the technology could be used on the company's offshore projects.
The innovation competition, the first in a planned series of challenge competitions, was developed as part of GE and ORE Catapult's 'Stay Ashore' research and development programme and was delivered through the Offshore Wind Innovation Hub's Innovation Exchange (OWiX) in partnership with KTN.
The adoption of robotics technology is seen as vital for the offshore wind sector, which, according to ORE Catapult research, could cut its inspection costs by almost 40 per cent through integrating remote operations, robotics and automated systems into operations and maintenance activities.
"Innovative robotics solutions such as this have the ability to significantly reduce operation & maintenance cost for offshore wind turbines like the Haliade-X, the most powerful turbine in operation today," Vincent Schellings, Chief Technology Officer for Offshore Wind at GE Renewable Energy, said.
"We look forward to working with these and other partners committing to drive the continued growth of offshore wind in the UK."
Improving the operations and performance of the offshore wind farms by using innovations in the robotics sector will be vital if the UK is to meet its goal of having 40 GW of installed offshore wind capacity by 2030, according to ORE Catapult's Research & Innovation Director Dr. Stephen Wyatt.
"Supporting companies like Tethys and Aerones to further develop and enhance their technology, and showcase their products to the industry's leading operators and turbine manufacturers, brings a huge boost to the UK offshore wind supply chain, helping to create jobs and generate millions of pounds for the UK economy," Dr. Wyatt said.