Danes Pick Thor Export Cable Landfall Spot
Danish transmission system operator Energinet and the Danish Energy Agency have decided that the export cables from the Thor offshore wind farm will have its landfall at Tuskær, north of Nissum Fjord.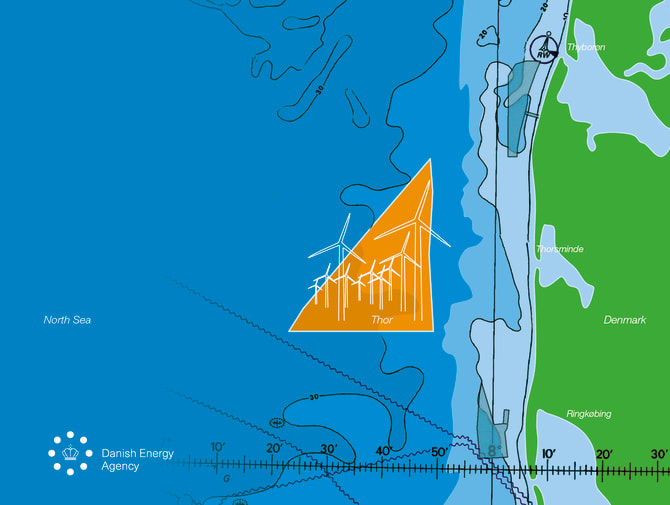 Accordingly, the possibility for a landfall south of Nissum Fjord has been cancelled.
This decision is primarily based on considerable cost savings to be realized by grid connecting north of Nissum Fjord, where the planned nearshore substation can serve both the Thor grid connection and up to 400MW PV-solar installations planned in the area, the agency said. Thus, the substation will serve 1.400MW of installed renewable energy.
In addition to this, the preliminary environmental site-investigations have proven that there are certain environmental advantages for using the northern landfall, including fewer landowners and neighbors being affected, as well as fewer archaeological occurrences.
The need for crossing streams will also be smaller, and shorter stretches with forest will be affected. Finally, a parcel has been identified in the north, where the view to the substation will be limited, while a substation located in the south would cause more disturbance in terms of the landscape and proximity to neighbors, according to Energinet and the Danish Energy Agency.
New Timeline for Thor Grid Connection
As part of the market dialogue held on Thor, a majority of market players made it clear that they would not be able to grid connect Thor until Q1 2025, thus emphasizing that the planned grid connection for Q2 2024 would be needless.
In order to optimize the possibilities for cost savings, it has been decided to provide Energinet with the flexibility to adjust the grid connection to Q1 2025, should this be the most advantageous considering the need for connecting land-based renewable production capacity to the grid.
The adjustment of the grid connection does not change the overall plans for Thor, which is scheduled to be fully commissioned by the end of 2027.
The Thor offshore wind farm is located west of the peninsula Jutland and some 20km to 45km west of the coastal village Thorsminde.
The wind farm will have a capacity of up to 1,000MW and will feature wind turbines with an individual capacity of between 13MW and 15MW.
Related news
List of related news articles