Introduction
Wind energy business has an historical background in Europe due to the high number of wind farms installed in the Old Continent, but in recent times the focus of offshore wind investments is starting to shift from Europe to Asia.
Wind energy business in Asia has been historically led by China with 35% share of the cumulative MW capacity worldwide (according to the last Global Wind Energy Council – GWEC report) but new growing markets like Taiwan are quickly becoming powerful players to be reckoned with in the offshore wind sector.
The analysis of investment in green energy done in 2018 by Bloomberg New Energy Finance (BNEF) shows that last year the wind power investment rose 3% to US$ 128.6 bn, with offshore wind power having its second-highest year of growth.
Taiwanese Market Overview
A significant step forward for Asian offshore market was the first two turbines of 128 MW, the "Formosa 1" project that came online in March 2017.
The Taiwanese government has set the target to source 20% of electricity from renewables by 2025 and offshore wind, set to provide 5.5GW, is the backbone for achieving the government's objective of phasing out nuclear power by the same year.
The combination of a clear target settled by the Taiwanese government combined with the good offshore wind seabed conditions, convince the offshore wind industry to look at Taiwan as another GW size market in Asia.
Power Purchase Agreement (PPA) and Feed-In Tariff (FIT) 2019 Issues
In November 2018, the Taiwanese government proposed a 2019 feed-in tariff of NT$ 5106 per MWh, a decrease of 12.71% from 2018. Some wind farm developers showed their disappointment about the process, the delay of establishment permits and PPAs with lower FITs, declaring also that this situation could affect the contracts signed with several local Taiwanese suppliers.
The Global Wind Energy Council (GWEC) spent the last several months engaging with the government and other stakeholders to try and ensure that the investments that could kickstart Taiwan's offshore sector and install 5.5GW of capacity could go ahead. GWEC assumed the role of facilitating the dialogue between the government and the wind industry providing research and evidence, in order to help all parties to find a solution.
Ben Backwell, CEO of GWEC, said, "Taiwan has done an extraordinary job of establishing one of the world's most exciting new offshore wind markets in a very short period of time. The competitive prices achieved in European tenders in recent years, where it is now lower than gas and nuclear, have sparked global interest in the industry, and Taiwan is well placed to benefit from that. We are on the cusp of something very exciting happening in Taiwan – bringing an influx of foreign investment, local job creation and the creation of clean competitive power generation capacity. However, Taiwan must stick to its plans and allow the industry to establish itself, or there is real risk of developers and investors exiting the market. Despite recent developments, it's not too late. There is still time to choose a way forward based on consensus and informed by the experience of other markets in the past so that Taiwan can avoid making the same errors and instead reap the benefit of a booming offshore wind industry."
Shen Jong-chin, Taiwan's Minister of Economic Affairs, said, "We must have a power generation ratio that we talked about in the past, and we will work hard to achieve 20% green power generation by 2025". He adds: "The energy price review board will meet at the end of the month, and he hopes that wind energy developers in Taiwan can provide supporting information to help the board make informed decisions".
On January 30, 2019 Taiwanese government unveils compromise proposal with higher tariff, higher cap and ladder. After the feed-in tariff was unveiled, Martin Neubert, Executive Vice President and CEO, Ørsted Offshore, said: "We will now collaborate closely with the supply chain to mitigate the adverse impacts from the production cap and the reduced feed-in-tariff with the objective of making the projects investable".
Innovation Run for Taiwanese Manufacturing
Due to the foreseeable closing of controversies between the Taiwanese Government and wind farm investors, that will soon kick start several wind farm projects, the Taiwanese manufacturers have been steadily getting ready to satisfy the production needs related to the wind projects to come.
Driven by this scenario, leading Taiwanese wind tower manufacturers have trusted Faccin's experience and successful track record of installed wind tower automation systems for their most exigent wind tower projects.
Customized Cost-Effective Solutions
Bending hundreds of cans every month can only be accomplished with a rolling package like the innovative 'Faccin's Wind Tower Automation System' designed to provide manufacturers with the reliability, precision and automation required in this type of manufacturing processes. The system is able to reach the floor to floor production time of 20min per rolled tube. It combines a powerful super-sized plate-rolling machine with key components like a strong side support, a sturdy top support and a feeding table with alignment device, all accessories controlled by a highly advanced fully programmable CNC designed to automate the most complex rolling projects.
Reliability, speed and accuracy must go hand to hand with costs reduction, and the job should be accomplished by a single operator through the use of a CNC capable of controlling automatically not only the machine but also the handling system.
Maximizing Profits
Our highly technological machines are designed to maximize the productivity, thus the profitability of the wind tower cans manufacturer. All this is achieved by a precise and fast rolling machine, which helps reduce time in the following steps of the wind tower assembly and welding, an oversized reliable structure able to work 24/7 and a user-friendly CNC capable of handling automatically not only the machine but also the handling system.
The high level of supply availability and the lowest possible processing time is our priority.
Installation and training are always provided in order to develop our customers skills. It allows them to operate confidently and independently in their day-to-day business.
The Company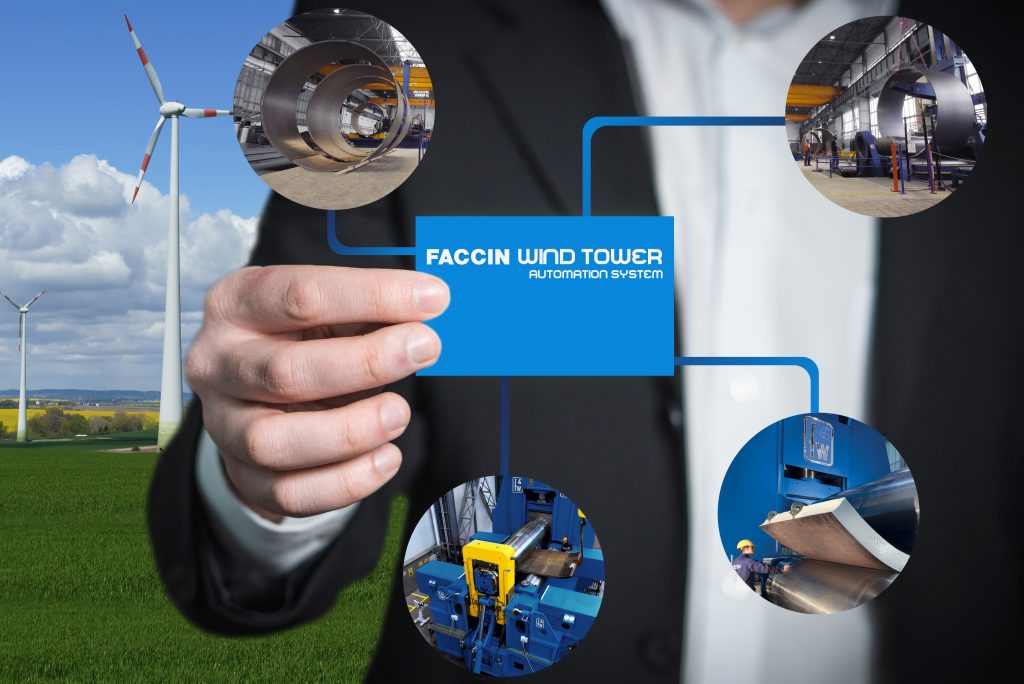 More than 200 years combined experience, forming today's future.
Faccin S.p.A. is a very powerful group which combines the best brands – Faccin, Boldrini and Roundo – in plate rolling, profile bending and dished-heads manufacturing, all united under one roof and offering the widest range of high-quality options available in the metal forming market.
"Faccin is proud to have already supplied machines to the main players in Europe, USA and ASIA and to contribute to the green energy production. The company strongly believes in the future of the wind towers business onshore -particularly the offshore wind farms where the use of plate bending rolls is essential."
Learn more about us and discover our latest developments by visiting our website www.faccin.com
Wind Tower: