Fred. Olsen Windcarrier's jack-up vessel Brave Tern has loaded the last turbines for the Horns Rev 3 offshore wind farm at the Port of Esbjerg in Denmark.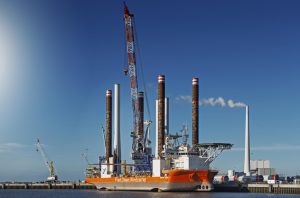 The vessel loaded the final batch of the MHI Vestas units on 10 January and is now set to head towards the project site 25-40km west of Houstrup Strand on the Danish west coast, the Port of Esbjerg said.
According to the port, Vattenfall's Horns Rev 3 was planned to be completed in 2020, but the completion is now expected as early as May this year.
Port of Esbjerg was used for the turbine pre-assembly, while A2SEA was responsible for the planning and execution of the wind turbine installation.
Horns Rev 3 comprises a total of 49 MHI Vestas V164-8.3 MW turbines, marking the first time this turbine model is used in Danish waters.
The 406.7MW project delivered first power in December 2018 and will officially become the largest offshore wind farm in Denmark once commissioned.