SeaZip to Test New Ridderflex Fender at Sea
SeaZip will soon put a new fender system to test on one of its crew transfer vessels (CTVs), after the Dutch company Ridderflex provided an innovative solution at the Offshore Wind Innovation Challenge 2018 as a response to SeaZip's quest for "The Perfect Fender".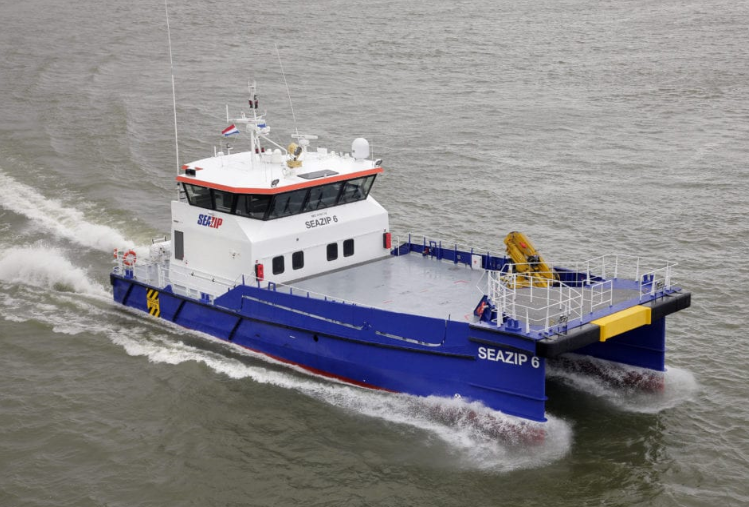 With the first prize, Ridderflex has won prize money, an introduction at ORE Catapult and the option of running a pilot of their product on an offshore wind farm, according to the Offshore Wind Innovators, who organised the challenge.
SeaZip had entered the Innovation Challenge looking for SMEs and start-ups that would come up with "The Perfect Fender" solution for SeaZip vessels since the current fenders in the market suffer frequent wear and tear, and often have to be replaced after three weeks. The costs for replacing a fender range between EUR 15,000 and EUR 30,000, not even taking into consideration the costs for downtime of the vessel and wind turbine.
For Ridderflex, the aim set by SeaZip was to develop a long-lasting fender, or similar technology, that is an integral structure of a vessel.
"We took up that challenge. We analysed the current fender systems and the problems that Seazip encountered during landing at windmills and oil platforms at sea. We interviewed fender experts such as Damen Shipyards. And we drew some conclusions with respect to shear forces, material properties and mounting methods. We also concluded that most fenders give colourisations on the boat landing poles," the fender developer said.
Ridderflex first produced a scale model (1:10) and tested it extensively, and then discussed with SeaZip how the system could be improved even further.
"Eventually, we developed our Polyether Urethane Fendering System 2.0. This system has, amongst others, improved anti-slip properties and mounting options compared to version 1.0. This improved fender will eventually be produced and tested in the field. Polyether Urethane Fendering System 2.0 will be mounted on a Seazip CTV ship," Ridderflex stated.