Edda Mistral Off to an Early Start at Hornsea One
The Edda Mistral Service Operations Vessel (SOV) has arrived at the Royal Dock in Grimsby ahead of the vessel's start of operations on Ørsted's Hornsea Project One offshore wind farm.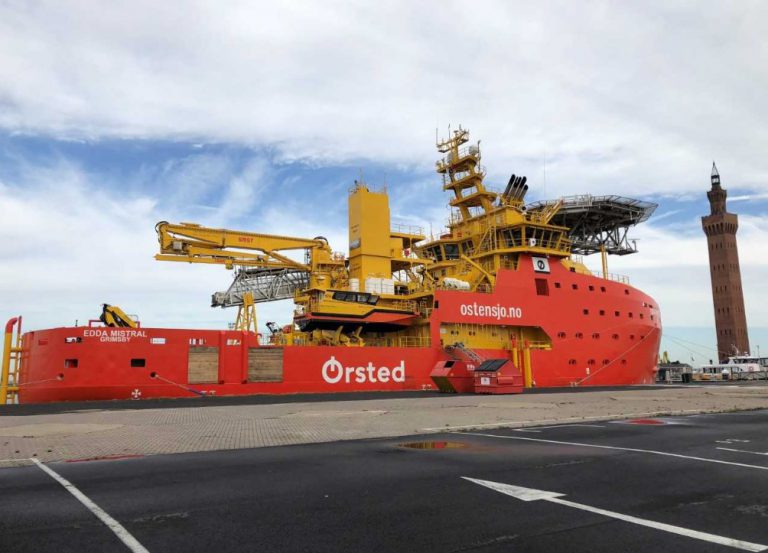 Although primarily intended for use during the operations phase of Hornsea Project One, the project team seized the opportunity to maximise its use and brought forward the Maiden Voyage so it can also be used to construct the 1.2GW wind farm.
In the construction phase, the Edda Mistral will primarily be used by JDR Cables to complete the last step of the array cable termination, connecting the array cables to the turbine switchgear located in the transition piece.
"Hornsea Project One is a step-change in offshore wind farms in terms of scale, capacity and distance from shore. We provide offshore logistics for some of our contractors, so in this case we planned to use a vessel we already had, rather than hiring a new one," Stuart Reid, Head of Ørsted's East Coast Operations in the UK, said.
"I personally am very excited to see the Mistral join its sister out at sea. The Passat and Mistral are unique vessels, and proudly bear the Grimsby name on their side. They were purpose built for our operations in Grimsby, including Race Bank, and Hornsea Project One, and so it's great that the Mistral can be used to benefit our construction team too."
When Hornsea Project One becomes operational in 2020 it will overtake the 659MW Walney Extension, officially opened by Ørsted this month, as the biggest offshore wind farm in the world. At 120km from the coastline, it will also be the furthest from shore that a wind farm has ever been built.
"Building further offshore allows for bigger wind farms with much higher wind speeds. As a wind farms get further and further out to sea, it becomes more efficient for technicians to stay offshore for weeks at a time, rather than retuning to shore every day, a bit like oil and gas operations," Lars Høy Jørgensen, Head of Operations Logistics, the team that has lead the development and delivery of the vessel, said.
"The SOVs have all the facilities needed to house technicians as they work offshore, including a gym, cinema and individual cabins that in total can sleep 60 people. A motion compensated gangway ensures safe transition to the turbines by allowing technicians to easily walk to work. "
The Edda Mistral has already visited the offshore site for some testing, including trying out the motion compensated gangway to access wind turbines, deploying the workboat and landing a helicopter on the helipad.
The vessel is now at Grimsby docks whilst Ørsted fit out IT and communications systems such as Tetra radio and offshore management system equipment.