Ad Hoc Marine Designs Unveils 41m W2W Crew Transfer Vessel
Ad Hoc Marine Designs has introduced a new 41m Walk to Work (W2W) SWATH Crew Transfer Vessel (CTV), capable of being at sea for up to two weeks with 24 technicians onboard, accommodated in their own individual cabins.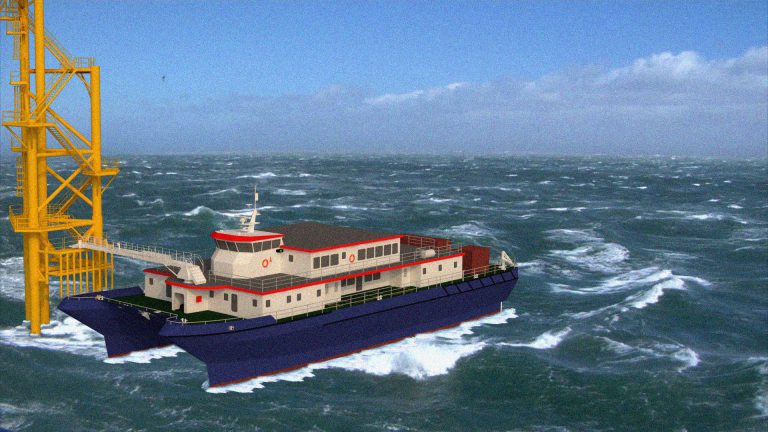 The vessel designer said that the new SWATH CTV, which can also carry any combination of 4 ISO containers, gives operators a better alternative to ordering larger vessels, especially when servicing offshore wind farms built far offshore.
The new vessel is based on the company's Typhoon Class SWATH design that meets significant wave height requirements for future rounds of offshore wind farms in the UK, according to Ad Hoc, who explained that the 41m CTV can run in Hs=3.5m sea heights and adopts the same philosophy of MCS SWATH 2 by going quad drive with four CAT 3512C engines rated at 1,678kW each, giving 25 knots.
"The next round of windfarms and the future vessel requirements for higher wave height and being longer at sea is due to windfarms being placed further out to sea," said John Kecsmar, naval architect at Ad Hoc Marine Designs. "Our Typhoon Class SWATH design is the best one on the market to meet these requirements going forward."
The company highlighted its new 41m SWATH's seakeeping capability during both transits and transfers.
The SWATH's motions are tuned away from expected sea states, coupled with the addition of Island Engineering's zero heave mode built-in to the motion control system, ensuring that the whole vessel is 'heave damped' and does not require any heave dampened gangway for transfers. This enables the operator to reduce fuel consumption by running on just one or two smaller engines when on the tower, or just the gensets when in 'hotel' mode for long extended periods, Ad Hoc detailed. Nevertheless, the vessel is also able to be fitted with Ad Hoc's DampaCat system which increases damping even further.
Upon introducing the new 41m CTV, Ad Hoc also presented a 33m Typhoon Class SWATH, a smaller version of the new W2W CTV that can accommodate 12 passengers. The 33m vessel is also designed to operate offshore for up to two weeks.