Bluestream Inspects TenneT's HVDC Platforms in Germany
Dutch offshore inspection services provider, Bluestream Offshore, has carried out extensive inspection work on three TenneT's HVDC platforms in the German sector of the North Sea: BorWin Alpha, DolWin Alpha and DolWin Beta.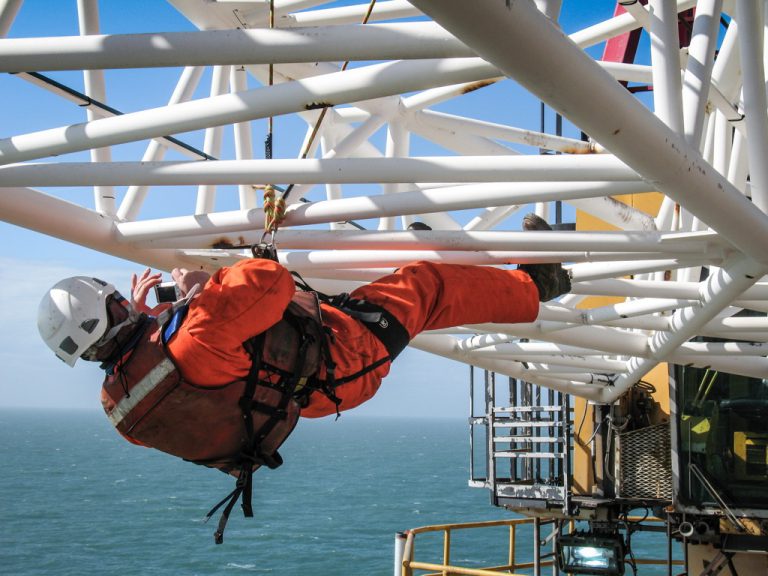 The company first inspected DolWin Alpha, installed on a jacket consisting of six legs and comprising five decks that rise 80m above the water surface. The team checked the overall condition of the platform with the main focus being on the coating. They carried out the inspection of all accessible areas by camera, with the rope access team inspecting the outside and underside of the platform. For the jacket part below the water, the company deployed the Cathodic Protection (CP) Drop Cell.
Bluestream pointed out that it also developed an in-house software package that allows for every item of damage to be derived from the report data and prioritised according to degree of seriousness.
After inspecting DolWin Alpha, Bluestream was awarded an order to inspect all accessible areas on BorWin Alpha as well. The total height of the BorWin Alpha is 84m, of which 62m consists of the support jacket. Here, the team carried out the inspection after a painting campaign, leading to a shorter inspection period. Bluestream used the CP Drop Cell method again, highlighting that the extra challenge here were the legs of the platform that are positioned at an angle.
In mid-2017, Bluestream received a further order to inspect the DolWin Beta, a submersible floating platform moored just 30m from DolWin Alpha. The concept behind this platform is different from that of the previous two platforms which are mounted on separately installed jackets, Bluestream said, since the six legs of DolWin Beta are an integral part of the platform. The company performed a general visual inspection using a drone operated by Skeye. Pilots from Skeye inspected the outside sheeting, the legs and the underside of the deck of the DolWin Beta platform using a drone. A small part of the inspection work still had to be carried out by one of Bluestream's rope access teams.
Drones are a complementary tool, and will never be able to completely replace rope access." – Bluestream
In September, Bluestream returned to the BorWin Alpha for an extensive inspection of all components of the platform, both above and below the water surfact. This time, the team carried out the inspection by rope access backed up by ROVs.