Maryland: New Bill Amendment Jeopardises US Wind, Skipjack Projects
The Appropriations Committee of the U.S. House of Representatives has adopted a bill amendment that obstructs installing offshore wind turbines within 24 nautical miles (approx. 44 kilometres) from the coast of the State of Maryland, endangering the US Wind and Skipjack projects which were recently awarded Offshore Wind Renewable Energy Credits from the Public Service Commission.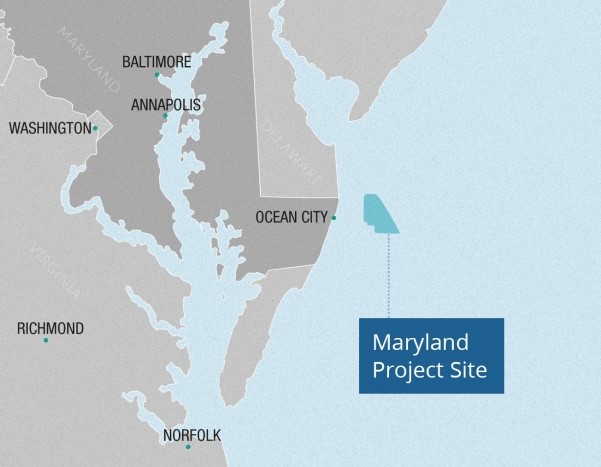 The amendment to the Interior Appropriations bill for Fiscal Year 2018, introduced by Representative Andy Harris, blocks the use of federal funds to conduct reviews of site assessment or construction and operation plans for wind turbines less than 24 nautical miles from Maryland coastline. This is the distance at which the turbines would not be visible from the coast, according to Harris.
"Ocean City's economy heavily relies on its real estate and tourism sectors, and there has not yet been a proper examination on whether construction of these wind turbines will have a negative economic impact on the community. If construction of these turbines too close to the shoreline will reduce property value or tourism, then the turbines may cause more issues than they solve," Andy Harris stated.
US Wind had already modified its initial plan after Ocean City Council expressed its concern over visual impact. The developer agreed to move the beginning of its offshore wind farm up to five miles eastward, which would reduce the visibility of any structures by more than 35%. Turbines were initially proposed to be installed 12 to 15 nautical miles offshore.
Deepwater Wind's Skipjack wind farm is proposed to be set up from 17 to 21 nautical miles offshore.
Harris further added that neither US Wind nor Skipjack had provided evidence that their projects will bring the positive benefits outlined in the Offshore Wind Energy Act (OWEA), which guarantees that ratepayers across Maryland cannot be asked to contribute funds to a proposed project that does not ensure positive economic, environmental and health benefits to the state.
On the other hand, after Maryland PSC approved the projects' ORECs, Liz Burdock, Executive Director of the Business Network For Offshore Wind pointed out that the offshore wind farms would have a positive economic and environmental impact: "The award of these projects is the launching point for great economic growth for Maryland: its businesses, and its citizens. Maryland continues to lead–achieving the first commercial scale offshore wind projects in the United States, as well as reaping the environmental benefits of this largescale, clean, renewable energy", Burdock said in May 2017.
Offshore WIND Staff