Fred. Olsen Windcarrier Docks Bayard CTVs with MPM North West
MPM North West has recently helped prepare and facilitate the latest class renewal for Fred. Olsen Windcarrier with Bayard 4 at their facility in Maryport, UK, marking the sixth time a Bayard crew transfer vessel (CTV) has used MPM North West in the last two years.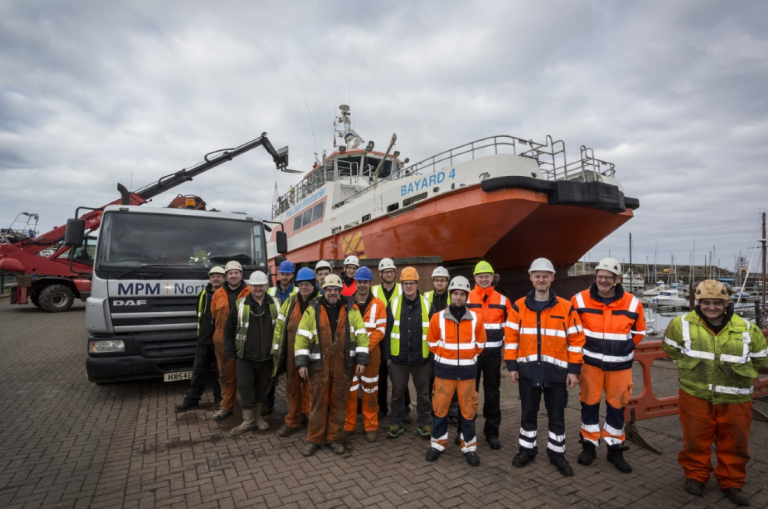 Fred. Olsen Windcarrier docked three of their Bayard CTVs in Maryport over the winter months from September 2015 to January 2016.
More recently, between November 2016 and February 2017, Bayards 1, 2 and 4 completed their DNV GL five year class renewal at their facility.
"We are really pleased with the level of service and the facilities at MPM Northwest. It is a convenient and flexible yard to bring our vessels to for this kind of work. Flexibility is really important to us – conditions at sea in the North West of England are often very harsh and we need to have a strong local supply chain behind us to ensure that our vessels perform to the maximum," said Benjamin Graff, Fred. Olsen Windcarrier A/S's Technical Manager.
Bayard 4 will rejoin her sister vessels at Barrow-in-Furness on 17 February where she will be stationed, along with her crew for the foreseeable future.
"We are very happy that Fred. Olsen Windcarrier chose our facilities here in Maryport. We are a part of a thriving local supply chain with a strong presence in the offshore wind sector. We hope to see more vessels from this growing sector in the future," said Michael John Hawkins, MPM North West Director.