Advertorial: TLQ solutions as wind farms venture further offshore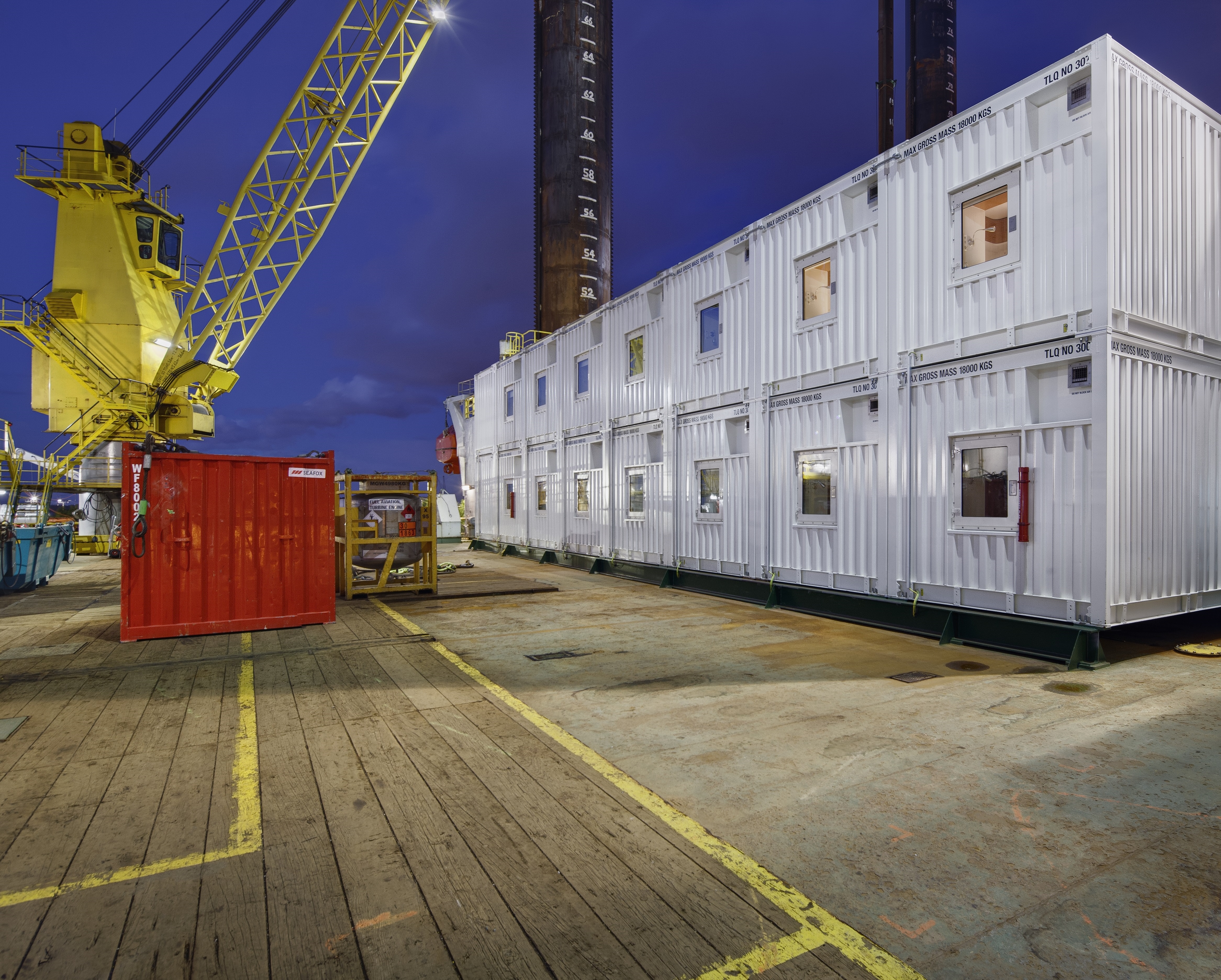 John Verdonk
Business Unit Manager Offshore Temporary Living Quarters at Seafox
As wind farms go further and further offshore into more challenging waters and harsher environments, the industry is developing a number of solutions to cope with the demands of the wind farm's initial construction period and following on from that, Operations & Maintenance activities.
With the sector maturing, dedicated Wind Turbine Installation Vessels have been developed, but there are still many old Platform Supply Vessels and converted offshore vessels being deployed as crew suppliers and to provide accommodation on site. However, this compromise is falling short of today's requirements because it is not tackling a fundamental need to improve conditions for the crew – the wind farm technicians – most of whom will not be from a seafaring background.
As the industry expands and sees those farms develop that are located more than 100km offshore, it is much harder to carry out O&M activities safely and efficiently. Additionally, it is also much harder to recruit and retain technicians willing to go to sea for longer than a day trip to a near-shore wind farm. They have to get used to life at sea and they also expect the comforts of the modern age.
And given that a significant number of jack-ups and barges are not built for the offshore wind industry, they often have to adjust their deck layout for each project, which means they require Temporary Living Quarters. Coupled with this, there are now higher expectations about the TLQ itself. Those in the offshore and maritime world rightly expect units that give them that 'home away from home feel' – they are no longer content with a bed in a 'floating porta cabin'.
Very much aware of this increasing demand for more modern and comfortable TLQs, Seafox has become the first company in the world to build its TLQ to the stringent demands of the Norwegian offshore market.
This new generation are suitable for worldwide use and for the harsh environments of the North Sea or the Baltic, where many offshore wind farms are located.
TLQ Nordic – NORSOK compliant
Known as the TLQ 'Nordic', the units have been classified DNV 2.7-2, DNV 2.7-1 – the highest classification standard and they are built in the Netherlands according to the extremely tough NORSOK guidelines. The DNV 2.7-2 is not new in the offshore market for other equipment but Seafox is the first company to have accommodation units with this standard.
All aspects of offshore welfare have been considered in this pioneering design, as the company recognises that having all the comforts of home enhances performance and productivity while technicians are carrying out their daily duties offshore. The units are equally suitable for platforms, heavy-lift ships, jack-ups or offshore vessels.
Designed as a 2-cabin, 4-person unit, they are very roomy measuring 10.2 m x 3.3 m x 3.3 m. They can also be converted into single-person rooms if required.
Traditional bunk beds in each cabin have been replaced with two, spacious single beds (90x210cm). The accommodation units have an elegant, contemporary design, providing a relaxing environment for free time, which means occupants return to work refreshed and ready for their next shift.
The TLQs are linkable and can be stacked four high. Each unit has all-round LED lighting, a HVAC and sprinkler system, as well as smoke and gas detection alarms. The units are designed to limit noise and vibrations. For example, the air-conditioning system is integrated into the ceiling facilitating a significant reduction in noise and they are equipped with a powerful air filtering system. Larger windows have also been installed in line with NORSOK.
Quality was also an important consideration. The Nordic units incorporate Scandinavian design, with the window frames, doors and panels all supplied by leading Norwegian manufacturers.
Each bedroom section has a wall-mounted LED TV, Internet access, a USB adapter, individual LED lighting and headphone jacks. Privacy has been considered with blackout, privacy curtains, adaptable lighting and additional network and coaxial points.  Every occupant has their own desk, drawer unit and nightstand, as well as individual lockers.
The units, which were built in the Netherlands, are equipped with a separate wet cell in each cabin with underfloor heating. A top quality Villeroy & Boch suite is provided and rather than the traditional shower curtain, modern glass doors are installed. A 250l hot water storage heater also means that only a cold water supply connection is required.
Internal linking corridors mitigate the time exposed to outdoor elements and cleverly designed corridor access also means it is easy to access utility service cupboards for all the various systems.
And although offshore wind is the topic of this article, the TLQs are designed for operation in all offshore sectors. They are built to the highest safety standards. Suited for Zone 2, they are ATEX 95 compliant, explosion proof and A60 certified.
Currently, Seafox has a fleet of 38 Nordic units. Several are already deployed in the North Sea.
Cost-efficient Standard TLQ
Alongside the new Nordic TLQ, Seafox provides the ever-popular Standard TLQ, which answers the need for modern, flexible, cost-efficient offshore accommodation.
These are built to comply with North Sea regulations and are suitable for worldwide use, including extreme environments. Classed by Lloyd's Register and to DNV 2.7-1, the TLQ Standard is a reliable, proven concept that has been deployed in some of the most hostile environments for many years.
The TLQ Standard is designed for flexibility. At 6.3 m in length and 3.2 m broad, they have a relatively small footprint making them cost efficient and they only weigh 8 MT.
However, there is still ample space for four occupants in two cabins, each with a bunk bed. The Standard units are equipped with all the modern day comforts, with each occupant having a (optional) wall-mounted TV and access to the Internet. In addition to the accommodation units, Seafox can supply offices, recreation units, laundry and washing/changing rooms.
Presently, there are 60 of these units in the fleet. The Standard TLQ can be stacked
three high to make maximum use of space. And their weight and size facilitate cost effective transport. They are essentially 'Plug & Play' and easy to hook up to any offshore installation.
For comfort and convenience, the Standard has a self-contained bathroom/wet-cell with shower, washbasin and toilet. Again, careful attention was paid to the spatial layout, making maximum use of light and a modern colour scheme provides a relaxing environment.
Seafox can also help setup the unit configuration and advise how best to maximise efficiency when linking them.
Container-sized Light TLQ
Last but not least, there is also the Light TLQ, which is the most compact unit. This container-sized TLQ weighs just 6.5MT and is the equivalent of a 20 ft ISO equivalent unit (TEU), therefore it can be shipped all over the world, providing the ultimate flexibility at minimal cost.
Built to comply with North Sea regulations, and conforming to the Lloyd's Register Convention of Safe Container (CSC) standard, it can be transported by any shipping line.
Despite being small, the Light TLQ still has ample space for four occupants in two cabins, each with a bunk bed. Every unit has a wet cell with shower and toilet. The units can be equipped with a TV and Internet access. Ten of these units are currently in stock.
Whether choosing a Light, Standard or Nordic, Seafox certainly has paid a great deal of attention to the designs, ensuring that offshore wind technicians can work efficiently and comfortably. Going the extra mile to improve their wellbeing can help increase retention rates, which has got to be good news. And the further offshore the industry goes, the more important this will become.
With several offshore wind farms on the horizon in the next few years, the units are readily available at short notice and are competitively priced.
Disclosure: This article is paid for and produced by Seafox and does not necessarily reflect the view of Offshore WIND. No member of the editorial team took part in creation of this advertorial.