BOEM: Who's Interested in Building Offshore Wind Farms in Hawaii?
The U.S. Bureau of Ocean Energy Management (BOEM) yesterday issued a call for information and nominations for two areas off Hawaiian coast, identified for wind energy development.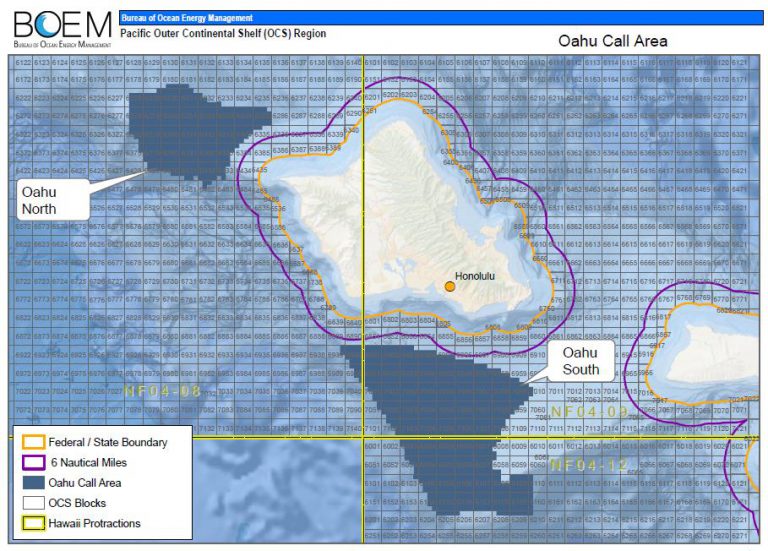 BOEM will gauge the offshore wind industry's interest in acquiring commercial wind leases in the two areas, spanning approximately 485,000 acres of submerged lands in federal waters offshore Oahu.
The Call for Information and Nominations also solicits public comment on site conditions, resources and other uses in and near those areas.
"We are working with the State of Hawaii, industry and a broad range of stakeholders to ensure that commercial wind leasing is done in a transparent manner that engages stakeholders throughout the process," BOEM Director Abigail Ross Hopper.
The call follows BOEM receiving a total of three unsolicited lease requests for floating wind energy projects off Oahu.
Two lease requests were submitted by AW Hawaii Wind for the 400MW AWH Oahu Northwest Project and the 400MW AWH Oahu South Project, and the third lease request came from Progression Hawaii Offshore Wind, part of Oregon-based Progression Energy, for the 400MW Progression South Coast of Oahu Project.
The state of Hawaii aims at 100% of its power coming from renewable energy sources by 2045, after Hawaii State Legislature passed a bill last year, setting a course to reach the goal by increasing its renewable portfolio standards to 30 percent by 31 December 2020, 70 percent by 31 December 2040, and 100 percent by 31 December 2045.
"As Hawaiians are well aware, energy can be expensive due to the transportation costs of fossil fuels that are needed to supply the state," said Assistant Secretary for Land and Minerals Management, Janice Schneider, on the occasion of publishing the call. "Under the leadership of Governor Ige and the Hawaii legislature, together we are making progress on creating the policy framework necessary to spur the development of offshore wind energy technology, helping further their goal of producing 100 percent of the State's electricity from renewable sources."