Interview with Giles Dickson: EWEA and COP21
While the European wind energy association (EWEA) welcomes the landmark agreement achieved at the United Nations Paris Climate Summit – known as COP21 – whereby countries will aim to cut greenhouse gas emissions to a level that will restrict the global average temperature to a rise 'well below' a 2°C threshold, the new EWEA Chief Executive Officer, Giles Dickson, says overall, there can no longer be a 'softly, softly' approach to meeting renewables targets.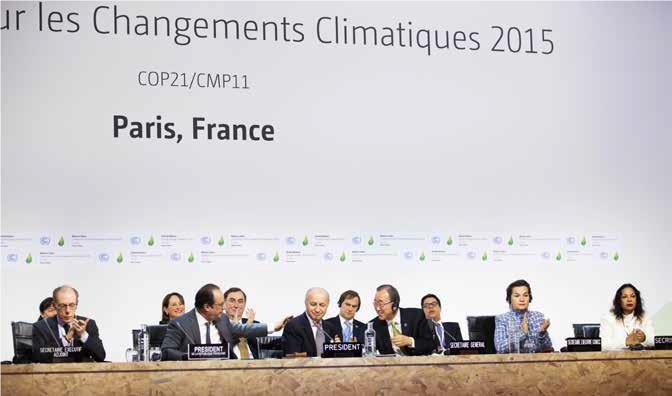 The world's major leaders attended COP21, with President Obama, Putin and Xi, flying into Paris to show their support and more than 70 multinationals had signed an open letter insisting that the meeting should result in an ambitious climate deal. In his address, President Obama urged negotiators to deliver because the 'next generation is watching'. "Climate change could define the contours of this century more than any other
challenge. I came here personally to say the United States not only recognises the problem but is committed to do something about it."
Though Dickson was always optimistic a deal would be achieved, he said that arguably it had even 'exceeded expectations', particularly with
the statement that there would be strenuous efforts to limit the temperature increase to 1.5°C above pre-industrial levels. In addition, one
of the Paris agreement's key points is to improve renewable energy deployment in developing countries, with $100 billion a year being made
available to assist them in their efforts to combat climate change by 2020. Crucially, the COP21 agreement is being defined as 'a floor for post-
2020', he stresses. "At the EWEA we certainly believe that this agreement is politically realistic and achievable. All the boxes have been ticked."
Separately the EU pledged €475 milion of 'climate finance' to the African, Caribbean and Pacific Group of countries by 2020 and Germany and France
also increased their allocations.
Just before COP21 took place, the EWEA had held its annual meeting in Paris, whereby the organisation laid
out its vision for the future. Some 350 exhibitors were present and more than 6,500 people attended. Dickson says: "There was a good buzz and a lot of business and learning taking place, as well as best practice being shared. And even though this took place shortly after the Paris attacks, there were very few cancellations."
EWEA launched its flagship report – 'Aiming High' – at the event. Ultimately, this report concludes that 'wind makes economic sense!' This is something the industry hasn't always been able to state in the past, Dickson stresses.
'Wind makes economic sense'
But now the benefits are clear, economic efficiencies are gained through job creation and knowledge export and in cheaper electricity bills for the European consumer. Onshore wind is now $83 a megawatt hour in terms of the Levelized Cost of Energy, while coal is $105 and gas $118. "The industry and experts have known that the LCOE has come down significantly in recent years but we now have this confirmation."
The offshore wind sector is also seeing that costs are coming down substantially, he adds. "We had several offshore sessions at the EWEA conference and there was a real positive vibe about the sector and the fact that costs are reducing significantly."
This reduction in the costs of wind energy is being achieved through a variety of reasons, such as the initiatives like the 'Contracts for Difference'
auctions in the UK, and just the sheer scale of wind farms now. He points to new developments like the 400MW concession for Horns Rev 3, which Vattenfall was awarded in March. However, much more can be done! And EWEA is doing its best to ensure that the costs keep going down."
"These larger-scale initiatives are a major reason offshore wind is becoming more viable and there has also been substantial progress on making good connections from a technological point of view. We are learning to optimise technology and there is more standardisation of the services and infrastructure, which is the key to the future. Standards and regulations Within the North and Baltic seas, governments have implemented their own regulatory frameworks and worked within their borders to realise projects at sea. However, the time has come for regulators to meet, and compare notes with a view to contributing to the cost reduction process.
"During 2015, EWEA hosted several meetings of the intergovernmental offshore wind forum, the first meetings of its kind. Dickson says: "This was really an excellent forum for regulators to have open conversations and to learn from each other. And I think the governments themselves are very committed and can see how they can help to reduce the costs of offshore energy."
For its part, EWEA is compiling a regulatory map of Europe and sharing the findings with governments throughout Europe and asking them to take steps. "We can then align the standards but this initiative also leads to more recognition of each other's standards."
"Of course, change will not happen overnight, it will be an ongoing process. But there is the political will to get it done. And there is no doubt that more cost reduction is necessary!" Assessing the current status of the offshore wind energy industry, Dickson stresses that the sector can no longer
consider itself a fledgling industry. "With 10GW capacity, this is now a mature industry. I think we are where we wanted to be in terms of installed capacity when looking across Europe and regarding the policy picture. There is strong support in many countries but certainly less support in others and this is reflected in the investment levels."
When it comes to wind power, Germany has three times the level of investment when compared to the UK, he points out, and Germany is expected to have 6.5GW capacity in offshore wind by 2020.
Support for offshore wind is lacking in some European countries
There had been very little clarity in the UK until November 18, he stresses as to the British government's view of offshore wind. The British Secretary of State for Energy and Climate Change, Amber Rudd made it clear that coal-fired power was to go in favour of gas and nuclear energy.
Offshore wind would only be supported if it brings the cost of energy down, she asserted. Funding would be made available for three offshore wind auctions in the current parliament but only if government conditions on cost reduction are met, she emphasised. The first auction is expected to be held by end-2016. The Secretary of State expects to see 10GW installed by 2020.
She went on to stress that subsidy should only be temporary, 'not part of a permanent business model' and warned there would be no more 'blank cheques'.
INDCs
Dickson praised the commitments many countries had made to COP21. "When looking at the Intended Nationally Determined Contributions (INDCs) of more than 150 countries, which had been tabled ahead of COP21, there were very clear commitments on wind and other renewables going beyond 2020 and up to 2030," he says.
EWEA was pleased to see that the COP21 agreement had stated that these INDCs should be reviewed every five years, so countries must continue to look closely at their renewables deployment. "And in Lima many were sceptical that countries would not deliver these INDCs, so we have clear evidence now of their willingness to engage in the process.
"For renewables these INDC commitments are the key to the future. Every country is setting out its strategy to reduce CO2 emissions. We now have the targets and details on policies and legislative measures needed to help deliver these targets."
Ambitious commitments outside of Europe
"We see a lot of very ambitious commitments amongst emerging and developing economies and of the 150 or so INDCs, 54 from non-European countries have highlighted that wind is a key mitigation measure!
"Just look at India, which is targeting 60GW by 2022!" China plans to increase its wind power capacity to 200GW – up from 95.81GW – and solar power to around 100GW from 28GW today by 2020. Estimates say that this move will see it install as much low carbon energy as the entire US electricity capacity to date or put another way, 20% of total energy consumption by 2030 will be from non-fossil sources. By 2030, it is building new energy capacity, which is as much total capacity as it has now, he adds. Turkey is aiming for wind capacity of 16GW by 2030. Brazil intends to increase
the share of renewables to 45% of its energy mix by 2030, with 23% of its electricity generation coming from wind, solar and biomass.
"These are ambitious commitments." However, European commitments are not so impressive on the whole, he emphasises.
Disappointing level of commitment
"It is very disappointing to see that in Europe only four to five members (the Netherlands, France, Germany, Denmark, the UK and possibly Portugal) have clear commitments to wind energy policies beyond 2020. This is a poor level of ambition.
"And this is despite the President of the European Commission, Jean-Claude Juncker in his State of the Union address saying Europe is No. 1 in renewables just recently."
In his speech 'Time for honesty, unity and solidarity', President Juncker said one example of where Europe is already leading is in its action on climate change.
He stressed: "The EU is on track and made a clear pledge back in March: a binding, economy-wide emissions reduction target of at least 40% by 2030,
compared to 1990 levels. This is the most ambitious contribution presented to date."
"Our forward-looking climate policy is also delivering on our much needed Energy Union goals: it is making us a world leader in the renewable energy sector, which today employs over one million people across the EU and generates €130 billion turnover, including €35 billion worth of exports. European companies today hold 40% of all patents for renewable technologies and the pace of technological change increases the potential for new
global trade in green technology."
Dickson agrees that there is huge potential for the European renewables energy sector.
Huge opportunities for European wind industry
"The many developments outside of Europe are a wonderful opportunity for European wind energy industry, which can export its equipment and
knowledge. But to do so it has to remain cost competitive! Europe needs to have a strong and vibrant domestic market and this lack of ambition beyond 2020 is worrying.
It is fair to say that in some EU countries there have been some negative political developments and this is impacting the ability to reach the emissions targets.
"The UK is the best example, we have a government that believes in infrastructure investment and is expanding and modernising its power generating
capacity, BUT it is using the least cost effective and economically efficient method (nuclear/gas), when the least costly method is wind. This makes zero economic sense. It is just economically illiterate!"
There is the ambition to see a 40% emissions reduction by 2030, he says. "This is a collective obligation, and the European Commission will have to put pressure on those who are not doing their fair share. The Commission will take measures if we collectively need to deliver 40%. And it has many levers – the use of the Structural Funds and the Cohesion Funds, the European Investment Bank, financial instruments, peer pressure, even naming and shaming."
EWEA is in Brussels doing its best to make sure targets can be reached, he says. "But softly, softly will no longer do. The European Commission has to be bold to get countries to meet these targets."
But there is the perception that if 2020 is met, this should create sufficient scale to allow renewables to survive on their own without any form of policy support. "Here I am not talking about subsidy. Policy can make sure there is the right price and it signals the drive for renewable energy."
Therefore, there should continue to be discussions about the electricity markets, the governance of further renewables expansion and the reform of the Emissions Trading System. "These are key to ensuring the wind industry can continue to play its part."
For EWEA, the next step is to work with regulators alongside industry to reduce some of the costs around offshore wind infrastructure. For example,
Dickson says the sector would benefit from a single European Union testing centre. "We would then have a greater level of standardisation in offshore components."
And in the longer term, when asked what the offshore market will look like, he stresses: "EWEA is not in the business of predicting whether the ambitions will be met. We are in the business of making things happen!"
Helen Hill
---
This article first appeared in the February 2016 edition of the Offshore WIND Magazine.