Marylanders Call for Doubling Wind, Solar Energy Targets
At a podium half-submerged in the Baltimore Harbor, public-interest leaders launched a broad-based campaign aimed at doubling Maryland's clean energy goals for wind and solar power in the 2015 legislative session.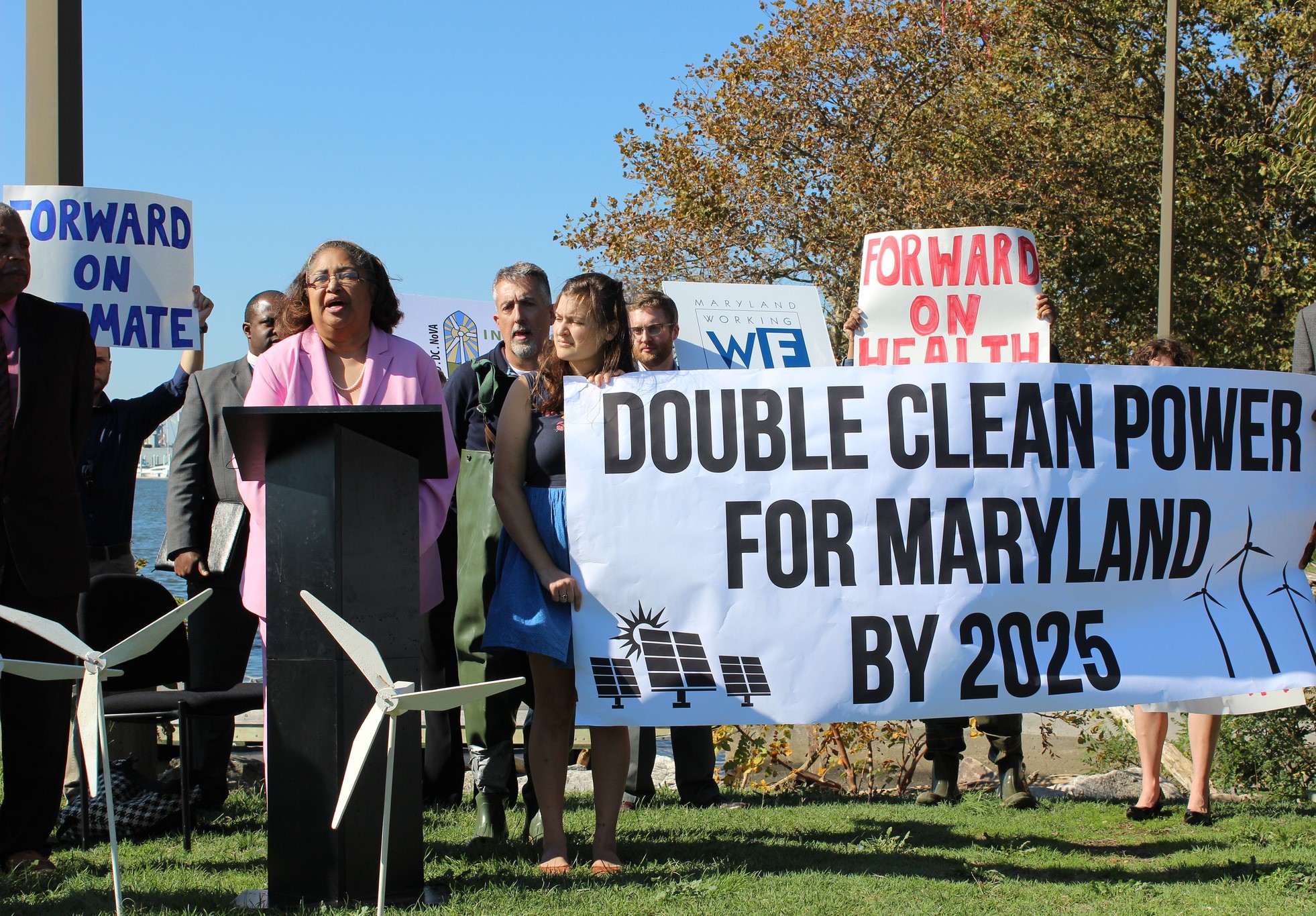 Representatives from faith, health, social justice, student, business and environmental groups began Friday's press conference standing up to their hips in water along Baltimore's vulnerable harbor to dramatize the threat of sea-level rise. The leaders pointed to several recent climate change studies painting a flooded future for Maryland's largest city and its capital city Annapolis. In response, the leaders underscored the urgency of transitioning Maryland off of planet-heating fossil fuels, and they declared their top energy priority in Annapolis in 2015 will be passing a 40 percent clean electricity standard.
Specifically, the legislation to be introduced would require utilities to obtain 40% of their electricity from clean sources by 2025, effectively doubling the existing requirement of 20% by 2022 under Maryland's Renewable Portfolio Standard law. In addition to the exceptionally strong and diverse coalition assembled in-person on Friday, leaders shared a new letter signed by 21 prominent local, statewide and national groups endorsing the campaign and a recently published letter by Bishop Wolfgang Herz-Lane, President of the Ecumenical Leaders Group, endorsing the campaign.
"This fall, supported by the work of Interfaith Power & Light, Maryland's religious communities have renewed our commitment to stewardship and care for all God's creation," said Reverend Darriel Harris of the Baltimore Food & Faith Project. "This morning, we challenge our leaders in Annapolis to do the same."
The Ecumenical Leaders' Group — representing seven denominations of Christian churches throughout Maryland — recently voted to endorse a 40% clean electricity standard for Maryland. In less than a month, forty religious leaders representing diverse faith traditions have signed onto their call.
Maryland's official greenhouse gas reduction plan, released in 2013, identifies strengthening the state's clean electricity standard as the most powerful single policy tool available to lawmakers. Polling released earlier this week indicates that 65 percent of Marylanders support doubling the state's target to 40% by 2025.
"Poor communities and communities of color here in Maryland are suffering at the hands of the fossil fuel industry," stated Gerald Stansbury, President of the Maryland State Conference of the NAACP. "2015 can be the year that Maryland takes the biggest step we've taken yet to right that wrong."
Maryland still gets more than half of its energy from dirty coal and gas. In addition to threatening cities like Baltimore and Annapolis with rising sea levels and increased flooding, these fuels threaten Marylanders' health, with the impacts disproportionately harming low-income communities and communities of color.
"By cutting our addiction to fossil fuels, we will not only be ensuring a safer — and drier — future, we will also be improving the health of every Maryland resident starting today," said Dr. Gina Angiola, MD, a board member of Chesapeake Physicians for Social Responsibility. "Our state has the dubious distinction of being the worst in the Eastern U.S. for ground-level ozone pollution, and MIT recently found that Baltimore City has the highest rate of premature death in the nation due to air pollution. This isn't a problem we can afford to ignore."
Baltimore native Christine Keels, a lifelong asthma sufferer, emphasized that Baltimore residents suffer from this air pollution every day. "I carry a medical supply kit with me everywhere I go. As an asthma patient, I think about how dirty the air is every day when I wake up," said Keels. "For once, I'd just like to drive with the windows down and take a deep breath."
Business leaders emphasized that, by passing a nation-leading clean electricity standard, state lawmakers have an opportunity to establish Maryland as a regional hub for clean energy jobs and investment.
"Doubling our commitment to clean energy means more jobs for Maryland, including more public sector jobs, more manufacturing and constructions jobs," added Charly Carter, Executive Director of Maryland Working Families. "That is a big win for workers and our communities."
Bruce Chatman, CEO and President of Essex Renewable Power LLC, said: "Doubling our commitment to clean energy in Maryland means more companies like mine, employing more Marylanders – from engineers to construction employees, from blade, battery and solar panel manufacturers to gearbox makers, from electricians to operators – working for Maryland-based small businesses building the new clean energy economy."
The coalition declared that they will continue building bigger and broader support for doubling Maryland's clean energy goals, and plan to bring a powerful statewide grassroots movement with them to Annapolis in 2015.
"Addressing climate disruption is a moral obligation, but more importantly it is an opportunity to build a brighter future for Maryland based on renewable, clean power," said Josh Tulkin, State Director of the Sierra Club, Maryland Chapter, who spoke on behalf of the Maryland Climate Coalition. "Doubling our state's commitment to renewable energy, to 40% by 2025, means progress not just on climate and public health, but also on jobs and economic leadership for Maryland. The Sierra Club is ready to do everything we can to pass this legislation in 2015."
"Flooding that used to occur just a day or two a year has become increasingly common, more so in Baltimore and Annapolis than nearly anywhere in the country," said Mike Tidwell, director of the Chesapeake Climate Action Network, and also a member of the Maryland Climate Coalition. "But just as the tides are rising, so is a grassroots movement demanding action. This movement will be sweeping Annapolis come January with one goal: doubling our state's clean power supply." 
[mappress mapid="14534″]
Press release; Image: chesapeakeclimate