Drydocks Completes DolWin Beta Construction in Dubai
Drydocks World has successfully completed the pioneering HVDC converter platform DolWin beta.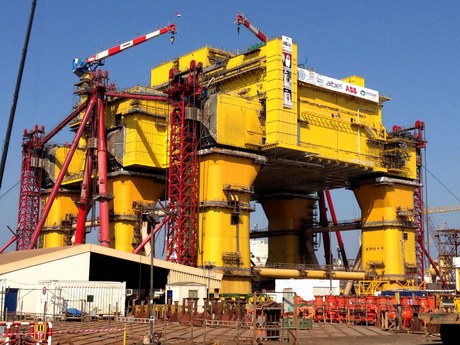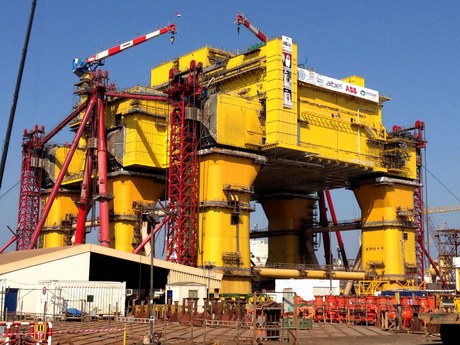 The platform, the world's largest in terms of capacity, was built at Drydocks World – Dubai. Completion of Dolwin beta heralds a new era for Drydocks World's expertise and catapults the facility into the top league of a few specialized shipyards in the world capable of building such mega offshore structures.
According to His Excellency Khamis Juma Buamim, Chairman of Drydocks World & Maritime World: "This is a testament to our engineering and production excellence and extensive capability to deliver highly outstanding projects of a sophisticated nature in a timely and efficient manner utilizing internal resources. Our foray into the offshore oil & gas and energy sectors has met with great success and this project has established our credentials as a reliable service provider to the sector. We have achieved 3 million man hours LTI free on this project. We have proved once again that we are able to deliver world-leading projects by implementing the highest possible standards relating to HSEQ." 
Mrs. Hildegard Müller, Chairwoman of the General Executive Management Board of the German Association of Energy and Water Industries was the godmother at the ceremonial naming ceremony. The project is a result of the collaboration between ABB and Aibel, in which ABB has the overall contract responsibility.
"This is a major milestone for the innovative Dolwin beta platform and we are pleased with the progress of this project so far. We look forward to the continued co-operation of our customer TenneT and other key partners as we move into the next stage and work towards the successful and timely completion of this important offshore wind connection, where we have deployed our state-of-the art HVDC Light and cable technologies," said Hanspeter Faessler, head of ABB's Grid Systems business, a part of the company's Power Systems division.
Aibel is responsible for the design and fabrication of the platform building on the company's competence and long experience in the offshore oil and gas industry.
"DolWin beta is our first platform within the offshore wind segment. To Aibel this is therefore a major milestone. Particularly I am proud of the good safety results during the construction phase," said Jan Skogseth, President and CEO in Aibel.
The platform is one of the main components of TenneT's 900 MW DC offshore grid connection "DolWin2". The platform will connect large offshore wind farms on the German North Sea. TenneT is the grid operator for the Netherlands and a large part of Germany.
The mammoth structure weighing approximately 23,000 tonnes is larger than a football field and is around 100 meters long, 70 meters wide and 90 meters in height. The platform design was adopted from semi-submersible offshore rigs to cater to huge capacity requirements. The steel used on the structure is enough to build two Eiffel Towers. The top side consisting of operational compartments for the electrical equipment and living quarters, weighing about 10,000 tonnes was lifted at Drydocks World, which created a world record for heavy lifts. The successful mating of the top side and substructure was carried out in December 2013.
The substructure and top side were built at Drydocks World's custom made new building facilities suitable for all types of rigs and offshore structures such as Jack ups, semi-submersibles and floating production units. All utilities and equipment for the platform, including those supplied by ABB, were installed at the facility. More than 7 million man hours of hard work was involved in the construction of the platform. Several miles of pipe lines, many kilometres of stainless steel ducting and about 500 kilometres of electrical cables were laid and some of them were the largest available. Over 200,000 square meters of steel surface was blasted and painted of which over 30,000 square meters is insulated as per stringent Norsok standards.
DolWin beta is built for a large wind farm cluster in the German sector of the North Sea and will be located in the DolWin cluster 45 kilometres off the coast. The platform will have a generating capacity of more than 900 MW which is sufficient to light up a major city such as Frankfurt. It will receive alternating current from several wind farms with more than 200 wind turbines and convert it into direct current before sending it onshore via subsea cables. The platform will stand on the seabed at a depth of around 30 metres.
Following this completion, the platform is scheduled to leave Dubai in early June 2014. It will be towed to Haugesund, Norway on a Heavy Lift Vessel for commissioning after which it will be towed to its offshore location. The unmanned platform will be remotely controlled and managed. 
Press release, June 10, 2014; Image: Aibel