ABB Develops New Wind Turbine Converter

ABB has launched a low voltage wind turbine converter, targeting onshore and offshore utility-scale wind turbines. 
The ACS880 wind turbine converter is rated from 0.8 to 8 megawatt (MW), with the highest powers being assembled using parallel-connected sub-converters. The liquid-cooled full power converter is available in in-line and back-to-back configurations and for operation with induction and permanent magnet generators. Its compact footprint allows nacelle and tower installations.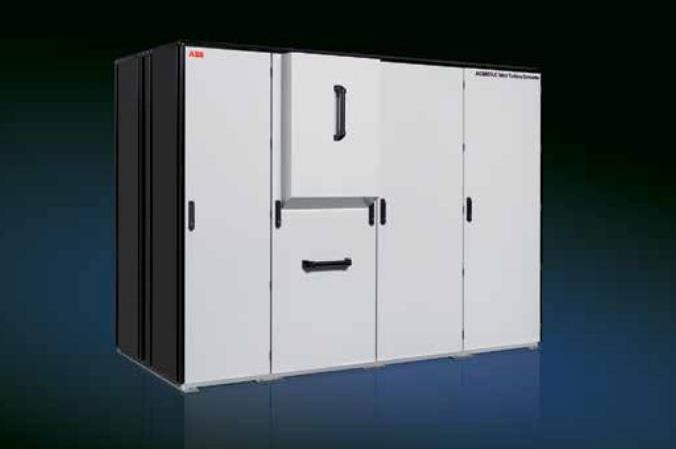 The state-of-the-art design lowers the levelized cost of energy (LCoE) by ensuring high turbine uptime, greater efficiency during operation, advanced grid code compliance, easy maintenance and lower life cycle cost.
ABB's enhanced direct torque control (DTC) monitors generator torque up to 80,000 times per second, ensuring immediate reaction and control of the generator side and grid side converters. This precise and fast control dampens drivetrain oscillations, thereby extending the mechanical drivetrain's life expectancy. DTC also provides the foundation for grid code and fault ride through compliance.
Long-lasting components are used such as self-healing foil capacitors, which avoids the need for replacement during the converter's lifetime. Similarly cooling fans are designed to considerably extend component replacement intervals.
Parallel-connected sub-converters are available as an option. Depending on the wind conditions, the sub-converters are activated or deactivated so as to increase the converter's overall efficiency, especially at partial load. Furthermore, if one of the sub-converters or power module fails, the faulty unit is disconnected and the converter continues operating at partial load. Repair can be planned and unpredicted downtime is prevented.
An advanced diagnostics system enables long-term planning of service and maintenance work. Depending on the converter's loading, a component lifetime calculator works out the wear and tear of each device and notifies any service needs. Preventive maintenance intervals, therefore, are accurately predicted.
The converter is based on ABB's variable-speed drive, the ACS880, a technology proven and tested in thousands of applications worldwide.
The new wind turbine converter will be officially introduced at the EWEA annual event, which will be held in Barcelona, Spain, March 10 – 13.
Press release, March 7, 2014; Image: ABB